Redskins beat Buccaneers in preseason finale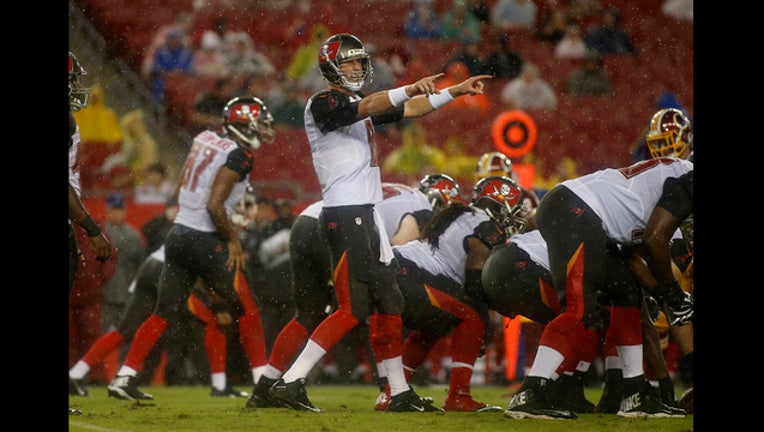 article
TAMPA, Fla. (AP) - The stands were mostly empty, but the soggy show went on.
Mack Brown ran for 149 yards and a touchdown in heavy rain Wednesday night, leading the Washington Redskins to a 20-13 preseason-closing victory over the Tampa Bay Buccaneers.
With Tropical Storm Hermine approaching Florida's Gulf Coast, the game at Raymond James Stadium was moved up 24 hours from Thursday, when the NFL's other 30 teams will conclude the exhibition schedule.
Attendance was announced as 42,996, however there only appeared to be about 5,000 or so in the stands at kickoff. Only die-hard fans stayed around for the end.
"You've got to love preseason football to be out there on a night like tonight," Bucs coach Dirk Koetter said.
Brown, a first-year pro out of Florida, spearheaded a 245-yard rushing attack and scored on a 60-yard burst in the second quarter. He also broke runs of 21 and 22 yards in helping Washington built a 13-0 halftime lead.
"I played at the University of Florida. We had no indoor stadium, practice facility, so I played in the rain all the time," said Brown, who carried 12 times for 130 yards in the first two quarters.
Rookie Nate Sudfeld played the entire game at quarterback for the Redskins, who left Kirk Cousins and the rest of Washington's projected starters behind in Virginia to attend the team's Welcome Home Luncheon, an annual event that raises money for a charitable foundation.
Meanwhile, 21 of 22 players listed as regulars on Tampa Bay's depth chart, including quarterback Jameis Winston, did not dress.
That left plenty of opportunities for young hopefuls such as Brown, who spent parts of last season on Washington's practice squad, and Bucs receiver Bernard Reedy to state their case for surviving final cuts Saturday, the deadline to trim rosters to the regular-season limit of 53 players.
"I really want to be here," Brown said. "I think I put some good film out there from camp, preseason. So I'm going to keep praying and hopefully I'm here."
Winston's backup, Mike Glennon, started for Tampa Bay and played into the second quarter. Third-stringer Ryan Griffin, who's also expected to make the team, got the rest of the work at quarterback and threw a touchdown pass to Reedy in the final minute.
ROOKIE WATCH
Redskins: Sudfeld, a sixth-round draft pick, completed 8 of 18 passes for 72 yards, one TD and no interceptions. With rookie RB Keith Marshall (elbow) landing on injured reserve this week, Brown and Robert Kelley remain in the running to be backups behind Matt Jones and Chris Thompson. Kelley carried 16 times for 99 yards.
"I was happy to see Mack. He showed up, made the decision tougher," Washington coach Jay Gruden said. "Hopefully we can figure out a way to keep all of them. We'll get together and figure it out."
Buccaneers: After a rough start to the preseason, missing an extra point and two field goals in the first two weeks, second-round draft pick Roberto Aguayo converted all five of his field goal attempts over the last two games, including a 50-yarder Wednesday night.
POSITION BATTLES
Redskins: Sudfeld is third on the depth chart behind Cousins and Colt McCoy, who dressed but did not play.
Buccaneers: Koetter has already said he expects to carry three quarterbacks. In addition to the competition for the fourth running back job, DE William Gholston played much of the first half in a bid to nail down a starting job.
INJURY UPDATE:
Redskins: Did not announce any injuries during the game.
Buccaneers: Rookie CB Ryan Smith left in the second quarter with a hand injury. TE Kivon Cartwright and WR Kenny Bell (concussion) departed in the second half and did not return.
QUOTABLE:
Redskins: "I thought it was a blue collar performance by our offense. We walked up with our lunch pails and just rode down the field as much as we could," Sudfeld said. "I understood the game plan, we were really going to try and establish the run. It's just a different type of game when you play in this weather but I had a really fun time."
Buccaneers: "Can't tell you how much I'm looking forward to getting the roster set, getting this behind," Koetter said. "It's not a f un way to finish preseason. It's a sour taste after what I think was a productive preseason. Not at all what we had in mind. But I've got to realize, we weren't playing our best guys out there."
___
AP NFL website: www.pro32.ap.org and http://twitter.com/AP_NFL