Sickles High baseball team delivers school's first state title in program history
TAMPA, Fla. - The halls of Sickles High School in Tampa were filled Thursday afternoon – not for the final bell, but to applaud the baseball team after their big state championship win. 
"I have no words to describe this moment. It was just incredible," said Sickles High senior outfielder Connor Vance. 
This season, the Sickles High Gryphons rattled off a nearly perfect schedule by winning 30 games and losing just twice. Those two losses aside, the team returned to the State Final Four in Fort Myers for the second straight year. 
RELATED: Brothers on Sickles High baseball team help Gryphons get to Final Four
Only this time around, they left as state champions. 
"We were two games away; two wins away [last year]," said Sickles High junior pitcher Cameron Guise. "That gave us the experience of what we needed to do and who we needed to be to win it this year." 
The message from the first day of practice, meanwhile, was clear. The Gryphons wanted to "complete the mission."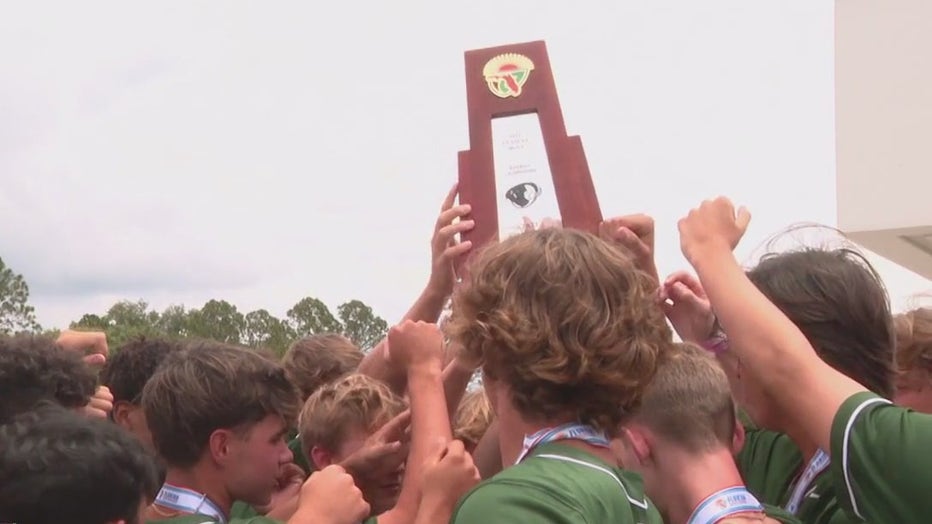 So much so, it was branded on their team gear. 
SPORTS: St. Pete siblings earn Jiu-Jitsu black belts together
"That's why it was on our shirts. It was our thing since day one," said Gryphons' senior pitcher Caden McDonald. "When you have a goal in mind for that long it just feels so much nicer when you complete it." 
With their mission now completed and accomplished, the team brought home their first trophy. 
"These guys had to live up to that expectation and that pressure, but ultimately pressure is a privilege," said Sickles baseball's head coach Erik Luksis. 
The state title trophy was the first in the baseball program's history. 
"Our names are going to be up on the walls of the school forever," Guise said. "To be able to do that and make history is great." 
And, its history that the members of this team got to re-write personally and together.