St. Pete siblings earn Jiu-Jitsu black belts together
LARGO, Fla. - In the Supremacy Jiu-Jitsu gym in Largo, Bobby Fratone found his calling.
"Jiu-Jitsu has the highest of highs and the lowest of lows," says Fratone.
It was 11 years ago when Bobby first stepped into a Jiu-Jitsu gym, but it wasn't long before he started bringing his sparring partner along for the ride by convincing his younger sister, Fallon, to try the sport. 
"Growing up, it's always been us two, together, no matter what we do," Fallon said.
It wasn't long before these St. Pete siblings found out that they had a real talent in the art of tap out.
"I knew I would train for the rest of my life because something just sparked in me, and I truly did find my passion and my purpose," Fallon remembers.
Soon, the two began entering competitions and winning a lot.
READ: Brothers on Sickles High baseball team help Gryphons get to Final Four
Bobby has captured countless gold medals, while Fallon went on to win two world championships with Bobby cheering her on.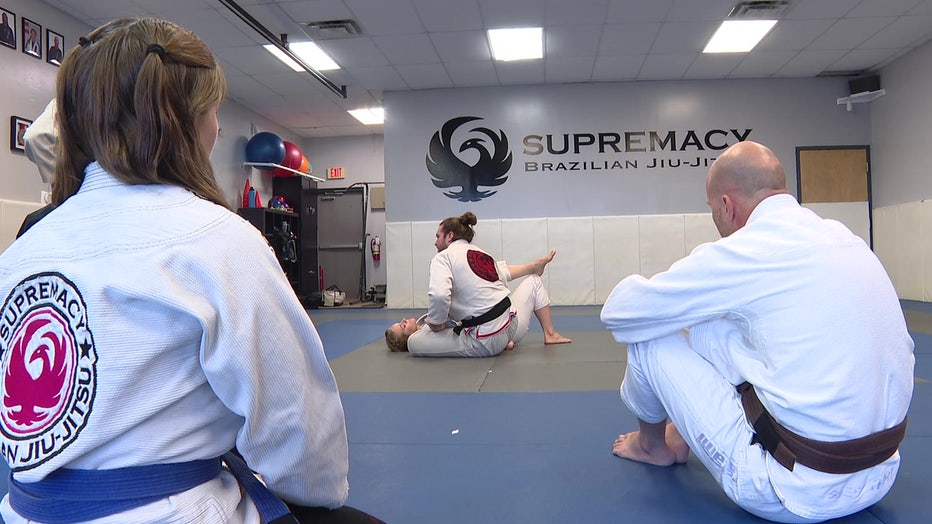 Siblings following their Jiu-Jitsu dreams 
"It was a complete awe-struck moment experience to me, especially because when my hand was raised, the first thing I saw when I looked over was my brother cheering for me," says Fallon. 
And after more than a decade of learning, training, and competing together, Fallon finally reached the mountaintop by earning her black belt despite starting in the sport after her older brother.
"I wanted it first," Bobby admitted. "But I couldn't help but be so happy for her."
Fallon got her black belt.
READ: 'Coming home': High school quarterback's journey brings him to Wiregrass Ranch for senior year
But what she didn't know, and what Bobby didn't know, is that their professor, Rodrego Grenno, was hiding another black belt.
Only this one was for Bobby.
"I was crying uncontrollably," said Fallon. "I dropped to the floor because it meant more to me that he got it, rather than myself, and that we got it together, most importantly."
It's a moment this inseparable tag team waited 11 years to celebrate.
"This is how we wanted it to be done, and I can't believe it just happened to work out that way," said Bobby. 
Now, it's a memory the two are sure to carry with them as they continue to live out their Jiu-Jitsu dreams.