Thursday Night Football: Colts vs. Patriots at Gillette Stadium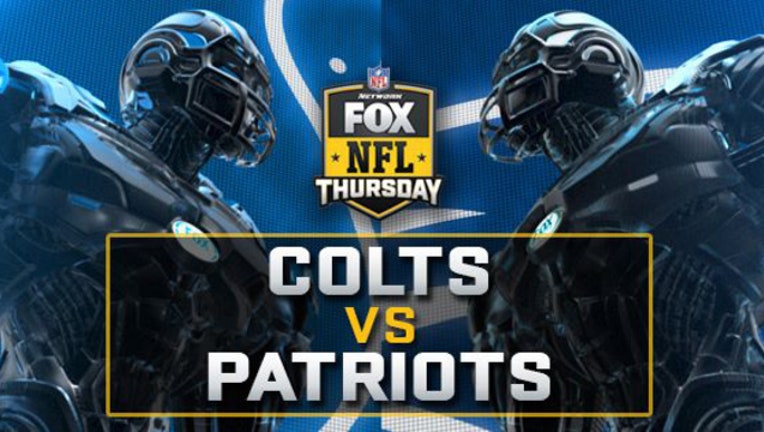 article
FOXBOROUGH, Ma. (AP) - Pardon us, but there's no deflating the focus whenever Andrew Luck and the Colts head to Gillette Stadium.
Like everyone else, Pro Picks would be leaving its readers flat if it didn't mention the saga of footballs without enough air that penetrated the AFC championship game in the 2014 season when New England hosted Indianapolis.
Download and watch Thursday Night Football on the FOX Sports app for Android and iPhone.
It would also be shirking our responsibility to ignore the fact that, like four years ago, this is pretty much a mismatch. The Patriots get back Tom Brady's favorite wideout, Julian Edelman, a few days after seemingly fixing their problems on both sides of the ball as they routed Miami.
The Patriots have won the past five regular-season matchups and the past seven overall.
New England, No. 7 in the AP Pro32, is a hefty - some might say inflated - 10½-point favorite over No. 25 Indianapolis. We think it's no problem giving up that many.
PATRIOTS, 33-19
KNOCKOUT POOL: The Jaguars did the job rather easily against the Jets last weekend. This week, we'll get it out of the way early with the PATRIOTS.
No. 27 (tie) New York Giants (plus 7) at No. 9 Carolina
The Giants are showing no reason to think they can stay with the fresh and skilled Panthers.
BEST BET: PANTHERS, 27-13
No. 11 Green Bay (minus 1) at No. 24 Detroit
This line basically means who will win. Detroit will.
UPSET SPECIAL: LIONS, 26-24
No. 3 Jacksonville (plus 3) at No. 2 Kansas City
The Jaguars have a defense to slow Chiefs Express, end KC's unbeaten season.
JAGUARS, 23-21
No. 1 Los Angeles Rams (minus 7) at No. 18 Seattle
Chiefs loss would leave one unbeaten team, which will remain so.
RAMS, 27-16
No. 5 Baltimore (minus 3) at No. 23 Cleveland
Dangerous game for Ravens after win at Pittsburgh.
RAVENS, 30-24
No. 20 Atlanta (plus 3) at No. 19 Pittsburgh
Two hugely disappointing, struggling outfits. Go with the healthier team.
STEELERS, 23-21
No. 15 Miami (plus 5 1-2) at No. 6 Cincinnati
The Dolphins were exposed in New England and face a surprisingly strong Bengals squad.
BENGALS, 27-17
No. 14 Minnesota (plus 3) at No. 12 Philadelphia
A rematch of NFC title game, with both teams struggling in 2018. The Eagles are a different club at home.
EAGLES, 23-17
No. 21 Dallas (plus 3) at No. 26 Houston
A Texas showdown to be decided by the defenses. Houston's is better.
TEXANS, 19-17
No. 13 Washington (plus 7) at No. 4 New Orleans, Monday night
Looks like these Saints can beat you a bunch of ways, not just with Drew Brees.
SAINTS, 31-20
No. 10 Tennessee (minus 3 1-2) at No. 30 Buffalo
The Bills showed just how bogus that upset of Minnesota was last week by getting routed at Green Bay.
TITANS, 20-9
No. 16 Denver (plus 2 1-2) at No. 29 New York Jets
We don't believe in the Giants or the Jets.
BRONCOS, 17-13
No. 2 (tie) Oakland (plus 6) at No. 17 Los Angeles Chargers
Somehow the Raiders keep every game close. This one, too.
CHARGERS, 26-21
No. 32 Arizona (plus 4) at No. 31 San Francisco
Both teams showed more than expected last week. And lost.
49ERS, 13-10
___
2018 RECORD:
Last Week: Against spread (5-9-1). Straight up (12-3)
Season Totals: Against spread (28-31-2). Straight up: (39-22-2)
Best Bet: 2-2 against spread, 4-0 straight up
Upset special: 2-2 against spread, 1-2-1 straight up
___
More AP NFL: https://apnews.com/tag/NFL and https://twitter.com/AP_NFL