After Michael, local first responders return from Panhandle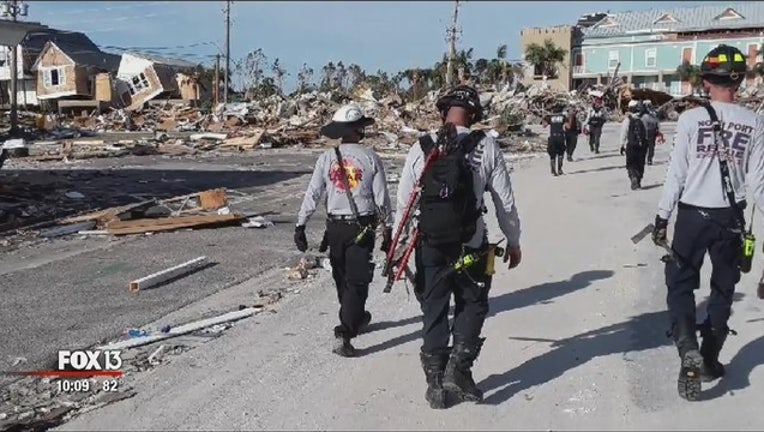 article
HUDSON (FOX 13) - First responders from across the state are heading to the Florida Panhandle, working around the clock while also giving first responders a chance to rest. Meanwhile, some of those hurricane victims are being brought down to the Tampa Bay area for some rest and relief of their own.
Bill Maylor isn't certain what his home looks like, or even when he'll see get to see home again.
"It's, it's a mess," Maylor said. "We live in a 14-story building and the top two floors are gone."
He and dozens of special needs patients were forced to leave nearly everything behind in Panama City. Monday afternoon, they arrived in Pasco County. For the foreseeable future, Fasano Regional Hurricane Shelter in Hudson will be home.
"It would be a pleasure if I can just go to sleep and relax," Maylor said. "It'll be good. Listen, we're lucky. Could've been worse."
As storm victims head south, police officers, firefighters and other first responders from the Tampa Bay area are heading north. And, the photos they're sharing are stunning: neighborhoods leveled and homes that were blown far from their foundations.
Lakeland Fire Department is among the agencies working in Mexico Beach, the area hardest hit by hurricane Michael. There, they tell us the fire department is non-operational and has no available responders.
Meanwhile, the Hillsborough County Sheriff's Office is assisting with everything from securing homes to search and rescue.
"Our job was to go in and do, first off, damage survey and see what roads were passable, what roads weren't passable," said Deputy James Herbert. "If they weren't passable, our job was to try to make our way through them 
Herbert just returned after four days in Panama City Beach. He and his team are gearing up for another seven-day deployment on Saturday.
"Cutting down trees, moving debris, just making our way into the neighborhood so we could check on people," Herbert explained of their duties. "We made sure they were safe, didn't need medical attention, gave them food, water, anything they needed."
Deputies like Herbert are not only giving relief to citizens, but first responders working 16- and 18-hour days despite the fact that they, too, are storm victims.
"There is a lot of law enforcement up there that's lost their entire house and they just have to put their uniform on and go back to work," Herbert added. "That's what we do."