Burglary suspect arrested after hitting Sarasota officer while fleeing, police say
SARASOTA, Fla. - The suspect accused of hitting a Sarasota police officer while fleeing a burglary has been arrested in Broward County, authorities said. 
Mark Thomas, 22, is now facing charges of aggravated battery on a law enforcement officer and fleeing to elude with disregard for safety, the Sarasota Police Department confirmed. He was arrested at a probation office in Broward Wednesday afternoon.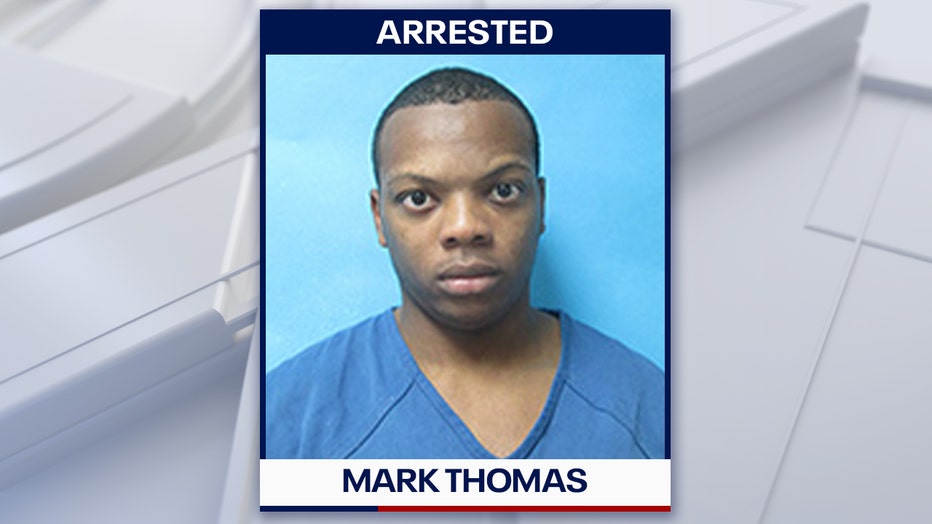 RELATED: Watch: Fleeing burglary suspect hits Sarasota police officer with car and takes off
The department released body camera and surveillance footage of the hit-and-run crash Tuesday, showing the suspect ram into an officer with his car on Bird Key. It all happened Monday evening while officers were investigating a vehicle burglary in the area. 
They said they first responded to the vehicle burglary at around 2 p.m., and the victims told officers that personal items were stolen from their car. Sarasota police said they found video evidence and began their search for a 4dr S-Series Mercedes that was involved. 
After the same white Mercedes was in a Longboat Key neighborhood where a stolen vehicle was reported, officers received a call after 9 p.m. that the suspect's vehicle was spotted on Bird Key again. SPD officials said the police officers parked their patrol vehicles at the entrance and exit to stop the Mercedes from leaving the area. 
READ: Pinellas County deputy justified for killing suspect who shot K9 handler 3 times, per state attorney
The Mercedes was seen trying to drive past the patrol cars, which is when the Sarasota police officer was hit head-on, flipping him over the vehicle, police said. The suspect was able to get away and left his car abandoned on Orange Avenue. 
The officer was taken to Sarasota Memorial Hospital and is now back at home. The department said he is expected to make a full recovery.
Thomas has been convicted in multiple crimes since December 2019 and was released from prison on February 2, according to Sarasota police.