Burn ban in place for Polk County after massive wildfire burn more 650 acres in River Ranch camping area
POLK COUNTY, Fla. - A burn ban is now in effect in Polk County following a massive wildfire that burned more than 650 acres and destroyed hundreds of out-buildings and a few campers, earlier this week. 
Fire officials say they're concerned the dry conditions and lack of rain will continue to get worse. The no rain, dry ground and brown vegetation are sparking fire officials to take action and extinguish the risk of preventable wildfires. 
The Polk County Fire Rescue burn ban ordinance, which was issued Friday, bars residents from having campfires, lighting fireworks and burning any trash or construction debris.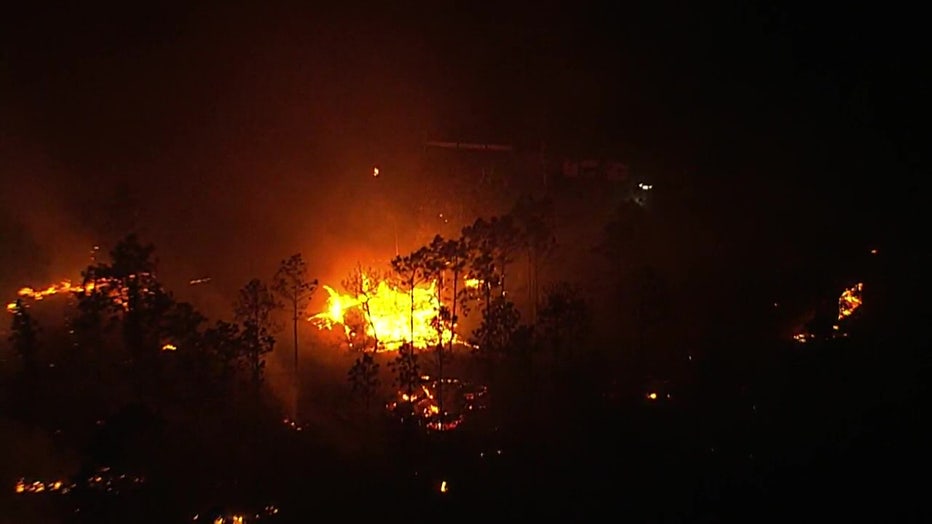 RELATED: Wildfire destroys 200 outbuildings, burns more than 650 acres in Polk County
"When you take into consideration that there might be dead brush on the ground, and it's very dry, that's just a recipe for disaster," said Joe Halman, Jr., the Polk County public safety deputy county manager.
As we saw Tuesday night, hundreds of outbuildings – like barns and sheds – plus a few campers and vehicles went up in flames within the River Ranch Property Owner's Association. The private recreational area is a 44,000-acre property in southeast Polk County with hundreds of campsites used for hunting, fishing and ATV riding.
"Our place has been burned four times in the last 23 years," camp owner Karen Browning said.
Like most camp owners, Browning said the threat of wildfires is nothing new. Just recently, her daughter's camp burned as her husband watched helplessly.
READ: Tampa Bay area in 'severe drought,' communities issue burn bans
"He did the best that he could, but he had to stand there and watch it engulf in flames," Browning said.
To estimate the likelihood of a wildfire, Polk County Fire Rescue uses what's called the Keetch–Byram Drought Index (KBDI). It's a way to measure drought conditions on a scale of 0 to 750.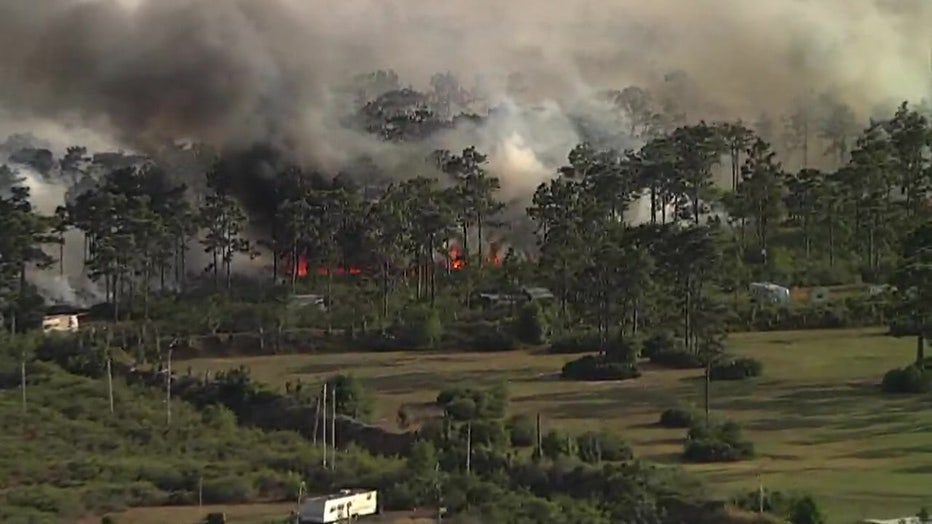 The lastest map from the Florida Forest Service of KBDI county averages shows Polk County in yellow with KBDI of 500 to 549. A more detailed look shows spots orange and red with KBDI scores of 600 and 650 in parts of southeast Polk County where the Right Gate fire burned 658 acres.
"We're hoping that everybody will comply," Halman said. "For the most part, here in Polk County, they've been very good at it once we put it out because our endeavor is to keep everybody safe. That's the whole purpose," Halman said.
Fire officials said the burn ban will be in effect for at least the next seven days. After that, they will re-evaluate the conditions and decide whether to extend it.