Deputies: Woman arrested for throwing baby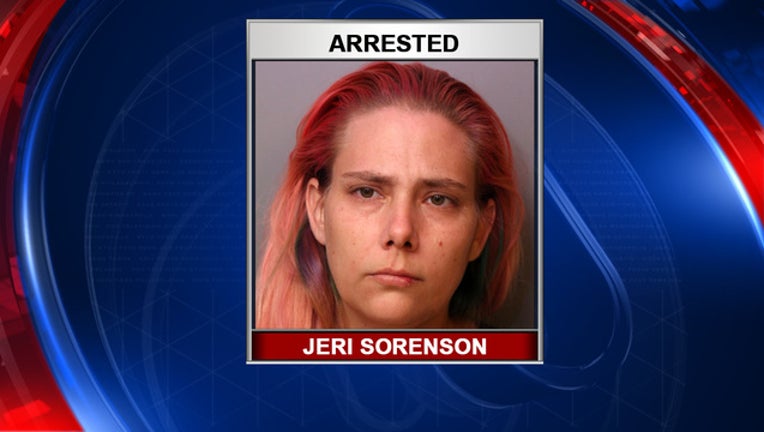 article
WINTER HAVEN (FOX 13) - The Polk County Sheriff's Office says a Winter Haven woman was arrested after she grabbed a 7-month-old baby by the arm and threw him across the room, but the child's father disputes that account.
According to an arrest report, it was back on January 29 when Jeri Sorenson and two children were visiting friends in Lake Wales.  She became "agitated" with the kids because they were whiny and crying.  That's when, a witness later told detectives, Sorenson picked up the baby off the couch by the arm and threw him across the room.
The child slammed into the wooden arm of a loveseat, the report says.  His resulting "horrific" screams brought others into the room, who suggested that Sorenson should take the boy to the hospital -- a suggestion she allegedly ignored.
The next day, Sorenson returned to the friends' home in Lake Wales and showed them that the boy could not move his arm and screamed in pain when she moved his leg, the report says, but she again disregarded her friend's suggestion to take the boy to the hospital.
The following morning, according to the report, boy's father noticed the child's arm was limp and insisted that they go to the hospital.  At Lakeland Regional, doctors discovered the boy's arm was broken and his right leg was fractured in two places.
Sorenson, 30, was arrested on a charge of aggravated child abuse.  Records show she was previously arrested in Polk County on charges of petit theft, credit card fraud, violation of probation, and failure to appear in court.
Deputies did not specify the woman's relationship to the boy, who is now recovering at Nemour's Children's Hospital.  
The child's father, meanwhile, says the deputies' version of events is incorrect.  Michael Powers told FOX 13 his wife was not the one who injured the boy and also says they took the child to the hospital immediately when they realized he was unable to hold his own bottle.
Powers insisted that he's provided evidence, including text messages from the witnesses in the case, to the sheriff's office to prove his wife's innocence. But, he says, detectives have ignored his claims.
"She's not capable of harming the kids," he insisted.
Powers said he expects the boy to be released from the hospital in a few days.