Drive-through COVID-19 tests to be offered at 7 BayCare locations
ST. PETERSBURG, Fla. - A shortage of COVID-19 testing kits remains a major obstacle for public officials as they try to get a handle on their response to the virus. Only 2,000 people have been tested in Florida, a state of over 21 million people.
Saying testing capability is "very limited," Tampa Mayor Jane Castor said there is no accurate count on how many people are actually infected. The Florida Department of Health's map shows more than 200 cases statewide.
The mayor said Tuesday there are also shortages of protective gear for health professionals.
To bridge the gap, BayCare announced it will open seven drive-thru testing sites Wednesday, March 18, around Tampa Bay, including at its urgent care clinic on Martin Luther King, Jr. Boulevard in Tampa.
State Sen. Janet Cruz (D-Tampa) said medically-necessary costs will be covered by Medicaid.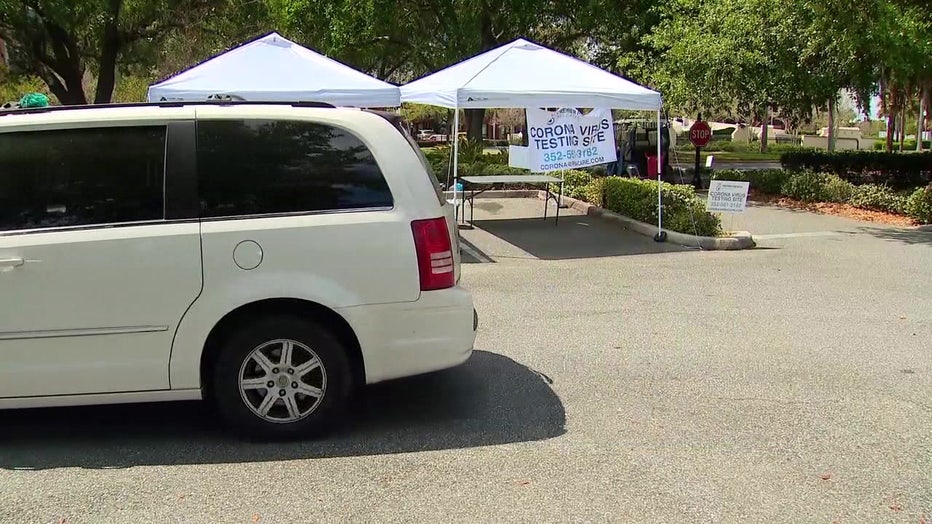 Drive-through COVID-19 testing in the Orlando area.
"We have anticipated events like this that will take a large portion of our budget so we have reserves that should cover that," said Cruz.
Mayor Castor said the county health department can test 50 people a day and facilities, including Tampa General Hospital, are waiting for more equipment to increase that number.
As for BayCare's drive-through testing, patients whose doctors instruct them to have a test can visit one of seven urgent care locations for a test, without having to get out of their cars.
BayCare warned that tests will be administered only to patients who meet the U.S. Centers for Disease Control and Prevention (CDC) testing criteria. However, BayCare said it hopes to expand access for more people to be tested at drive-through sites as more testing supplies become available.
Follow this link to view the CDC's latest guidelines for testing: https://www.cdc.gov/coronavirus/2019-ncov/symptoms-testing/testing.html
Each testing site will have three stations where patients will be tested for the novel coronavirus disease, as well as other common respiratory viruses if they have not already been tested.
Individuals who think they need to be tested for COVID-19 should first call their primary care physician or visit BayCareAnywhere.org.
It could take between two and four days to get results back once BayCare runs the test.
Testing locations: 
BayCare Urgent Care (Carillon) 
900 Carillon Parkway, Suite. 106, St. Petersburg, FL 33716   
BayCare Urgent Care (New Port Richey) 
4821 U.S. Highway 19, New Port Richey, FL 34652     
BayCare Urgent Care (Countryside) 
3351 N. McMullen-Booth Road, Clearwater, FL 33761            
BayCare Urgent Care (Tampa) 
3440 W. Dr. MLK Jr. Blvd., Suite 100, Tampa, FL 33607         
BayCare Urgent Care (New Tampa) 
17512 Dona Michelle Drive, Suite 5, Tampa, FL 33647           
BayCare Urgent Care (Bloomingdale)      
2442 Bloomingdale Ave., Valrico, FL 33596       
BayCare Urgent Care (Haines City)
36245 U.S. Highway 27, Haines City, FL 33844
IF YOU FEEL SICK:
The Florida Department of Health has opened a COVID-19 Call Center at 1-866-779-6121. Agents will answer questions around the clock. Questions may also be emailed to covid-19@flhealth.gov. Email responses will be sent during call center hours.
LINK: Florida's COVID-19 website
CORONAVIRUS IN FLORIDA: What you need to know
AROUND THE WORLD: CoronavirusNOW.com
MAP OF CONFIRMED COVID-19 CASES:
MOBILE APP USERS: Click here for map