Election Day freebies and deals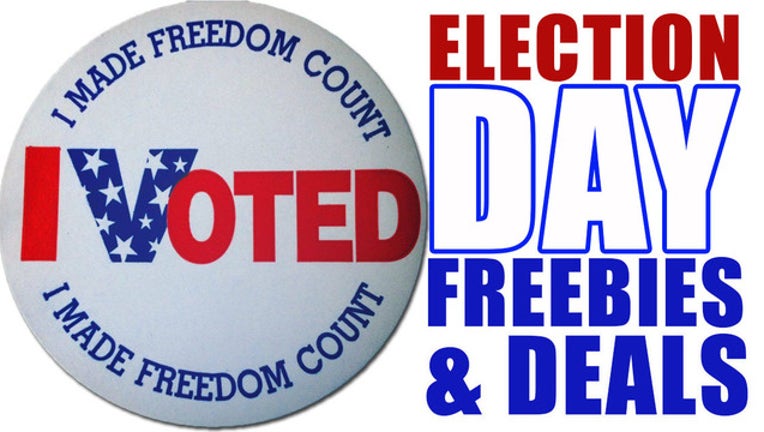 TAMPA, Fla. - Restaurants and businesses are giving voters some sweet rewards this Election Day.
Here's a list of goodies, freebies and deals being offered around the Tampa Bay area and beyond:
-Krispy Kreme will give you a free doughnut if you wearing your "I voted" sticker November 8.
-At Bob Evans, get 30 % off your entire dine-in or carryout order with this coupon. 
-At Gold's Gym, bring a valid "I Voted" sticker and get free access to your local Gold's Gym on Election Day free of charge.
-7-Eleven is giving out a free coffee on Election Day through the 7-Eleven app.
-Uber to your polling place through the special in-app feature that will help you locate your polling place. First-timers can get $20 off their first ride using the promo code "VOTETODAY" uber 
-Great American Cookie Company is giving out a free cookie to voters on Election Day. 
-At Firehouse Subs, free medium drink to anyone wearing their "I Voted" sticker on Election Day.
-World of Beer is offering $1 beers for guests on Election Day.
-Tijuana Flats is offering a free small side for "Guac the Vote." Just be sure to show your "I Voted" sticker. 
-At Chuck E. Cheese's, voters can get a free personal size pepperoni pizza with the purchase of any pizza on Election Day.
-Burgerfi is offering "Conflicted Burgers," $5 burgers on Election Day
-St. Pete Bagel is offering a small free coffee with any purchase at any of its three location on Election Day to anyone who comes in with an "I Voted" sticker.
-Your first pint is free at Tampa Beer Works with an "I Voted" sticker, and you can stay for Happy Hour and the election count: 
-Marco's Pizza is offering vouchers for free pizza on Election Day
-White Castle is offering a free gallon of iced tea with purchase of a Crave Case. Must present a coupon or use the promo code: USA if ordering online.