Eta regains tropical storm strength, warnings issued for South Florida
TAMPA, Fla. - According to the National Hurricane Center, Eta regained tropical storm strength as of Saturday morning.
Damaging tropical-storm-force winds are expected Sunday night, with hurricane-force-winds possible, in the Florida Keys and portions of the southern Florida peninsula, where a tropical storm warning and hurricane watch are in effect.
LINK: Track Tropical Storm Eta on MyFoxHurricane.com
Portions of the east and west coast of Florida are also under tropical storm watches and warnings, but the Tampa Bay area is not.
FOX 13's meteorologist Tyler Eliasen says the Tampa Bay area may not see tropical storm warnings, but we can expect a period of rough weather beginning Monday. He says the area will likely experience rain squalls and gusty winds that may reach 35 miles per hour. The good news is that Eliasen says the rain will be more of a nuisance rain rather than a flooding rain.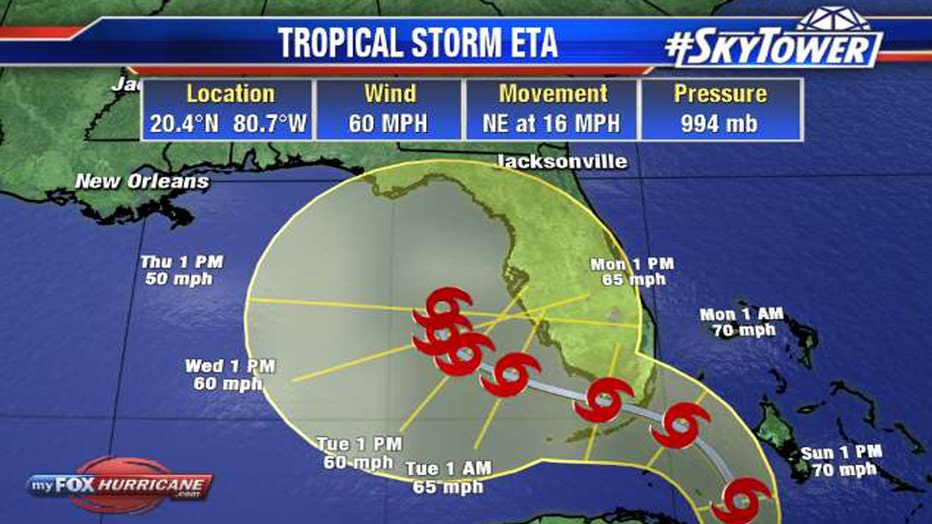 He says Eta will likely make landfall in the Florida Keys or South Florida Sunday night and before turning toward the west and heading out into the Gulf of Mexico. Once it enters the Gulf, the computer models don't have a clear path of where it will head next. Eta's track in the Gulf will determine what the weather will be like in the Tampa Bay area after Monday.
STAY CONNECTED: Download the free FOX 13 News app for Live SkyTower Radar, forecast videos, and more weather coverage