Football 'not even a challenge' for this special 7-year-old
VENICE, Fla. - Landyn Bannan recently scored his first touchdown for the Venice Vikings U8 team.
"I juked him," the 7-year-old told FOX 13 Sports. He would also say his favorite part of scoring was getting to do a victory dance which, as he puts it, is his favorite part of football.
After what he's been through, Landyn deserves to dance whether he scores a touchdown or not. He was born with leukemia and had already done four rounds of chemotherapy by the time he was 8 months old.
"It's gut-wrenching," Landyn's father Colin Bannan said. "It's tough to go through. You never wish for that for anybody."
On top of his leukemia, Landyn has a chromosome disorder called Beckwith-Wiedemann Syndrome and is also prone to seizures.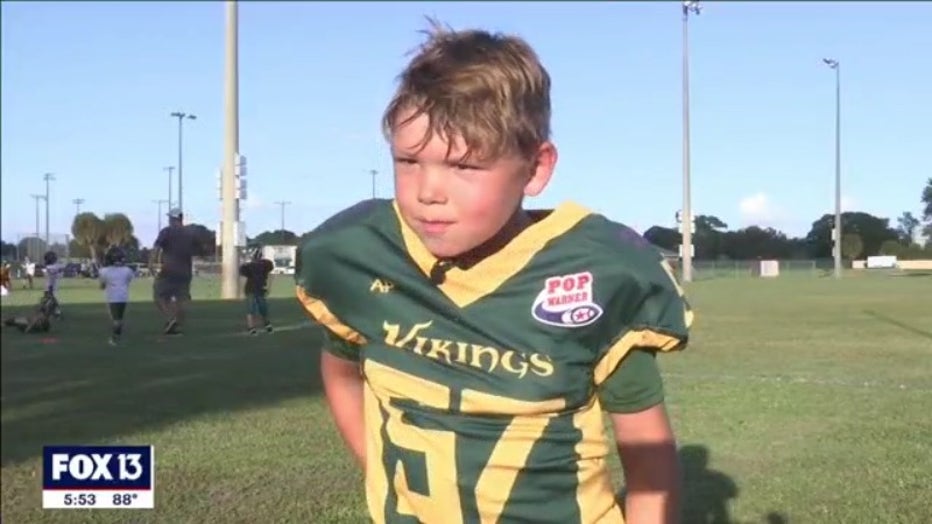 "I juked him," Landyn Bannan beamed.
"He's been through it all," Colin continued. "He's gone through more than anyone should have to go through in their entire life.
"We checked with all our doctors, and they said 'Don't treat him any different. Let him go out there and have fun. Rough him up. Keep a close eye on him. Just let him have fun.'"
Now in remission, Landyn is having plenty of fun not letting anything get in his way. Whether it's would-be tacklers on the football field or anything else, Landyn is a fighter.
"He's the toughest human being that I've ever encountered," Colin added. "Football is not even a challenge compared to other things he's done."