FWC tracking bear seen wandering through Pasco County neighborhood
PORT RICHEY, Fla. - There are no lions or tigers in Pasco County. But there is a bear.
Numerous people have called FWC and the Pasco Sheriff's Office to report seeing a young black bear walking through their neighborhood.
The Florida Fish and Wildlife Conservation Commission (FWC) says it may be a relatively young bear that is looking to establish new territory. Officers are trying to track it down.
"[He or she] walked up onto our sidewalk," said Kalyn Lehr. "Came through, didn't bother anything."
Thursday night at around 11, Lehr's cameras captured ten seconds of the young black bear's multiple-mile journey of many days. 
"I said oh my God, this is not a cat, this is not a possum, I ran out and showed (my boyfriend) at 2:30 in the morning, we got a bear!"
READ Black bear rips porch screen, takes a dip in Florida pool
Kalyn is one of many in Hernando and Pasco who has called FWC over the last few days to report this bear.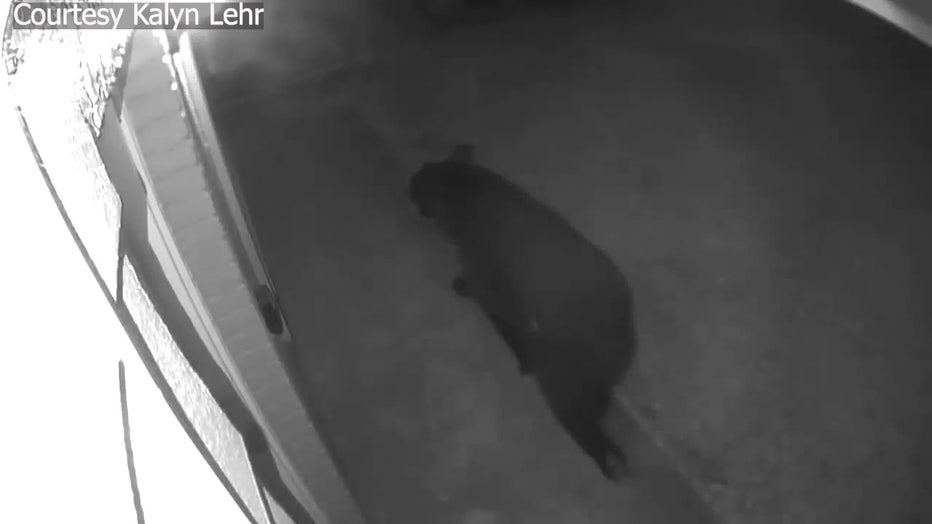 "Wherever he was living, a lot of people moved into that area and he doesn't really have anywhere else to go," said Lehr. "So he's looking for a new home."
FWC says he or she is moving southwest in search of a mate or place to roost. 
Also, says ZooTampa, food.
"Bears are opportunistic," said Jaime Vaccaro, who works in the Florida Mammals Dept. at Zoom Tampa. "They can smell from over a mile away."
READ Curious bear takes dip in Citrus County pool
ZooTampa says it's somewhat unusual to hear of bears this far from woods. They're more likely to be found in Ocala and the Panhandle. It's unlikely to cause a problem unless you get too close.
"Just keep your distance," said Vaccarro. "Don't try to approach the bear. Just observe seeing such a wonderful animal."
To this point, the bear, which Vaccarro estimates is between 200 and 500pounds, is not known to have disturbed anything except motion detectors on surveillance cameras just off Route 19.
"I am so glad," said Lehr. "We haven't seen any big wildlife since we moved from PA. I have seen bears all the time up there. To see one down here is just so cool."
The FWC says that while seeing a bear may be a thrilling experience, it's important to remember that they are wild animals that should be respected.
According to the FWC website, anyone who spots a bear in their yard should get into a safe area, make sure the bear has a clear escape route and then scare it away. The FWC recommends frightening the animal by yelling, banging pots and pans, using an air horn, or anything else that makes a lot of noise. Also, using paintballs, bear spray, and slingshots are also allowed under FWC guidelines.
After the bear leaves, the FWC says it is important to make sure there is nothing on your property that will draw it back such as open trash cans or compost piles.
The FWC says once bears lose their natural fear of people, often due to access to food attractants, there is often little hope to make the bear wild again.
The FWC offers these guidelines to keep bears away:
Secure household garbage in a shed, garage or a wildlife-resistant container (like a bear-resistant container or caddy).
Put household garbage out on the morning of pickup rather than the night before.
Secure commercial garbage in bear-resistant dumpsters.
Protect gardens, beehives, compost and livestock with electric fencing.
Encourage your homeowner's association or local government to institute ordinances on keeping foods that attract wildlife secure.
Feed pets indoors or bring in dishes after feeding.
Clean grills and store them in a locked, secure place.
Remove wildlife feeders or make them bear-resistant.
Pick ripe fruit from trees and remove fallen fruit from the ground - bears love fruit.
Screened enclosures are not secure and will not keep bears out.
It is illegal to intentionally place food or garbage out that attracts bears and causes conflicts. Anything that attracts dogs, cats or raccoons will also attract bears.
Anyone who sees or suspects that someone is feeding or attracting bears is asked to call FWC on the Wildlife Alert Hotline at 888-404-3922.
CONNECT WITH FOX 13