Man killed in wrong-way crash on Suncoast Parkway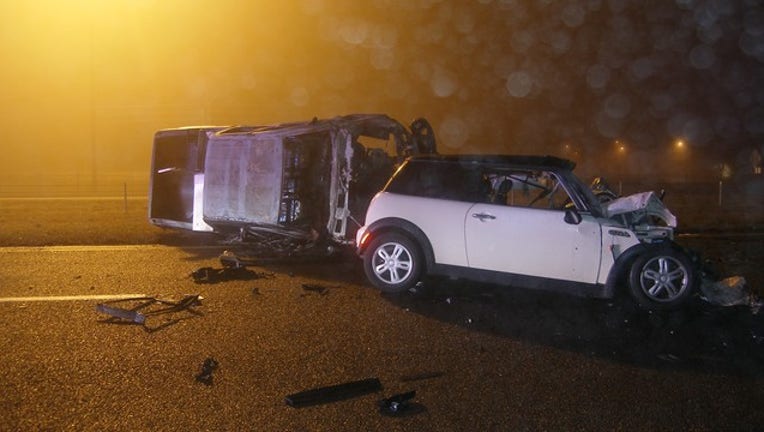 SPRING HILL, Fla. (FOX 13) - SPRING HILL, Fla. (FOX 13) - The Florida Highway Patrol is investigating a wrong-way crash that left a man dead early Sunday morning.
FHP said the crash occurred around 2 a.m. on the Suncoast Parkway just north of County Line Road.
According  to investigators, 39-year-old Jose Jimenez was driving his truck southbound in the northbound lanes. He crashed head on into a vehicle driven by 39-year-old Rhiddari McKenzie.
FHP said McKenzie was killed in the crash. Jimenez was seriously injured and taken to a hospital.
Troopers believe Jimenez was impaired at the time of the crash and charges are pending.
McKenzie's family is now opening up in hopes of raising awareness about the dangers of impaired driving.
"He was a very outgoing person," McKenzie's sister Sasha said. "Very loving. He was a hard-working man. Very creative."
McKenzie was a father to three young children. His 8-year-old son Rhidarri McKenzie Jr. remembers his father for his courageous spirit.
"He made me stronger in every way," he said. "He taught me to be brave and stand up for myself."
A native of the Bahamas, McKenzie and his family moved to Hernando County more than a decade ago. McKenzie eventually started up his own business breeding dogs.
"He loved taking care of them," McKenzie said. "He went to the c-section's with them. He fed the puppies."
McKenzie's family is hoping what happened will show others just how much of an impact their decision can make on complete strangers.
"Drinking and driving, it doesn't only effect your life," McKenzie's sister-in-law Keisha McKenzie said. "But pretty much this person destroyed almost a whole family."
Jimenez is still recovering from Regional Medical Center Bayonet Point, but when he's released will likely face charges for impaired and reckless driving.