Mom gives birth in car 6 minutes after leaving for Lakeland hospital
LAKELAND, Fla. - One baby girl in Polk County made an unforgettable entrance into the world Friday morning.
Stephanie Johnson says March 10 will be a day that goes down in history for her family. She was expecting her baby girl to come any day, but didn't expect to deliver her on her own.
"The contractions started at 4 in the morning and they were pretty quick," Johnson said. "And then right around 6:10, my water broke and I'm like, we have to go now. Because the pain went from a 7 to a 10, so we have to go, or I'm going to give birth in the car."
Johnson says her mother and boyfriend starting driving her to the hospital, but things starting progressing much faster than she expected.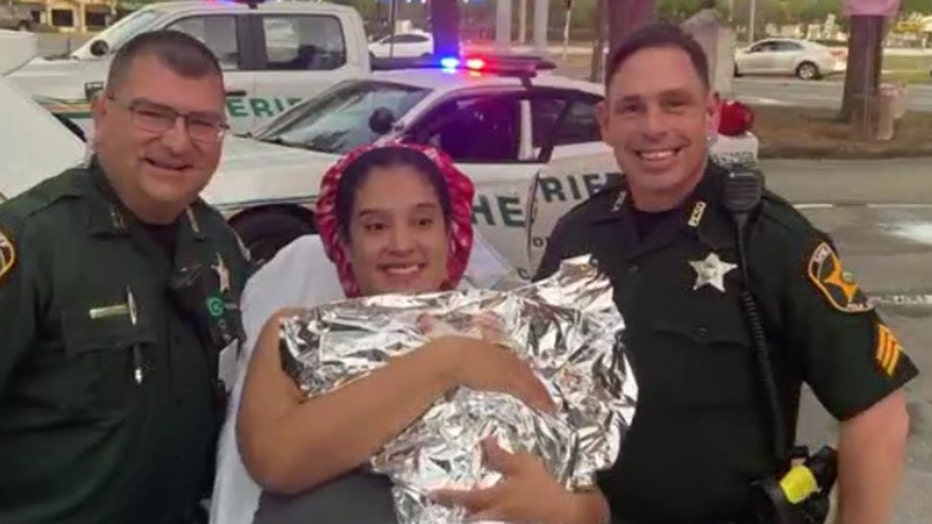 "The next thing I hear is, 'Oh, the head is out.' I'm like, oh man," Stephanie's boyfriend Josias Moulterie said.
Johnson says she suddenly realized they weren't going to make it to Lakeland Regional Health Medical Center in time.
"We probably drove all but six minutes, and I'm like here she comes," Johnson said. "Her head is out. So my mom pulled over and she was like, 'OK but wait. Don't push'. I'm like, I can't."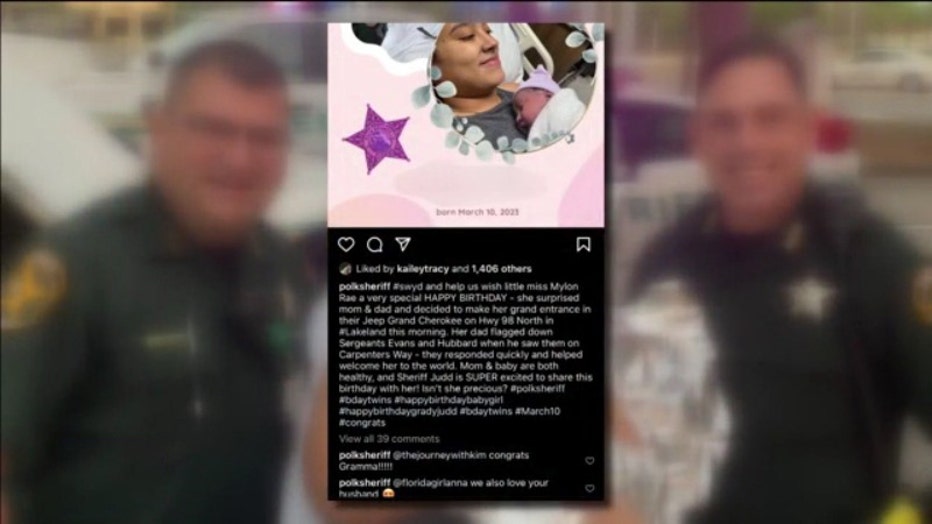 Johnson says her mother tried to pull over as fast as she could to a nearby Walgreens in Lakeland.
"I yelled for one of them to catch her and nobody was catching her, so that's when I was like OK, I'm going to have to catch her myself," she said.
The now-mother-of-three took matters into her own hands.
"As we're waiting for the light to change, her head was there, so I just pulled her out and brought her up," she said.
As they pulled into the parking lot, Johnson was holding her daughter, MylaRae in her hands.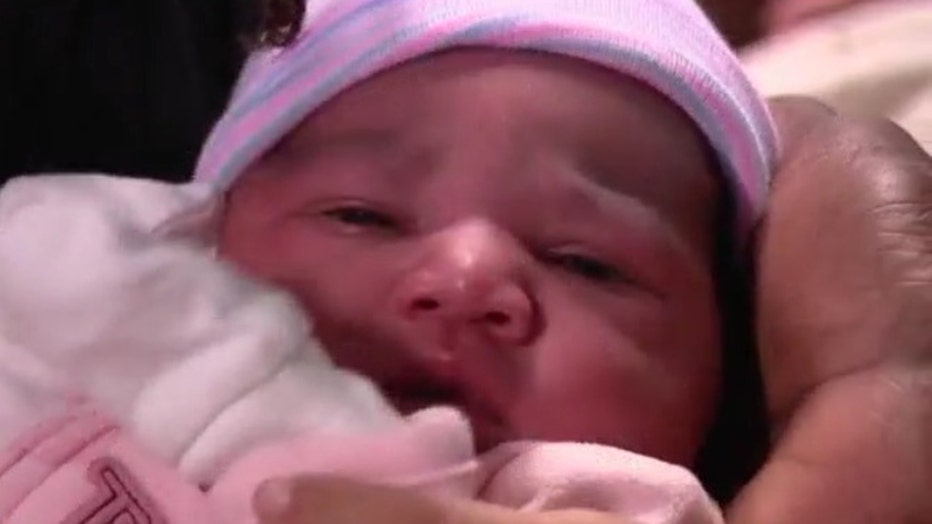 "At first, I'm like, I'm going to be so amazed that I'm having a daughter," Johnson said. "I'm having a daughter. The whole time, I'm like, I just had a daughter in the car."
Moulterie says he started to try to call 911 but was so flustered he couldn't think straight while talking to dispatchers.
"I just look straight ahead," he said. "What do I see? A sheriff. And I run to him. I'm running to him, running out of the parking lot. I'm like excuse me sir, sir. My girlfriend just gave birth to our daughter."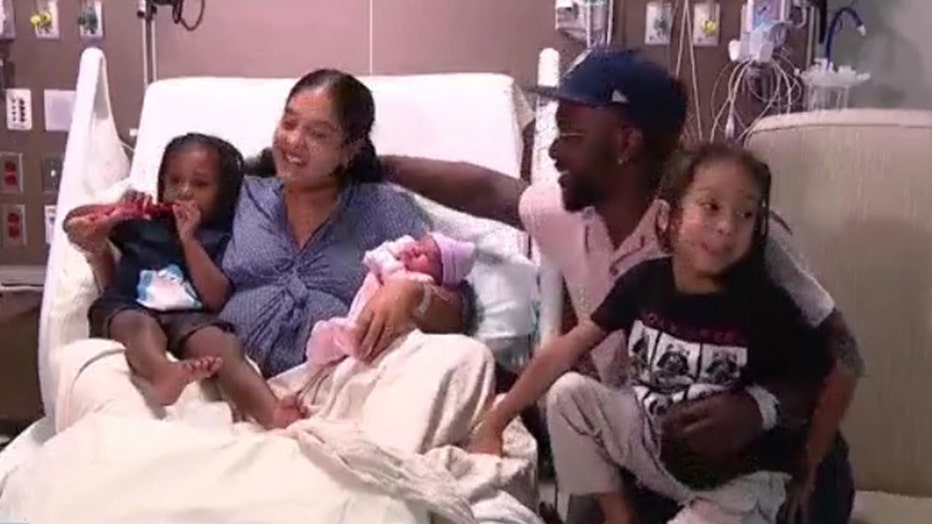 Polk County Sheriff's Office sergeants Mike Evans and Keith Hubbard jumped into action, wrapping MylaRae in a blanket and beach towel and keeping Johnson and Moulterie calm while they waited for an ambulance.
"These guys need to be acknowledged. They need to be recognized because they just put another layer and icing on the cake," he said.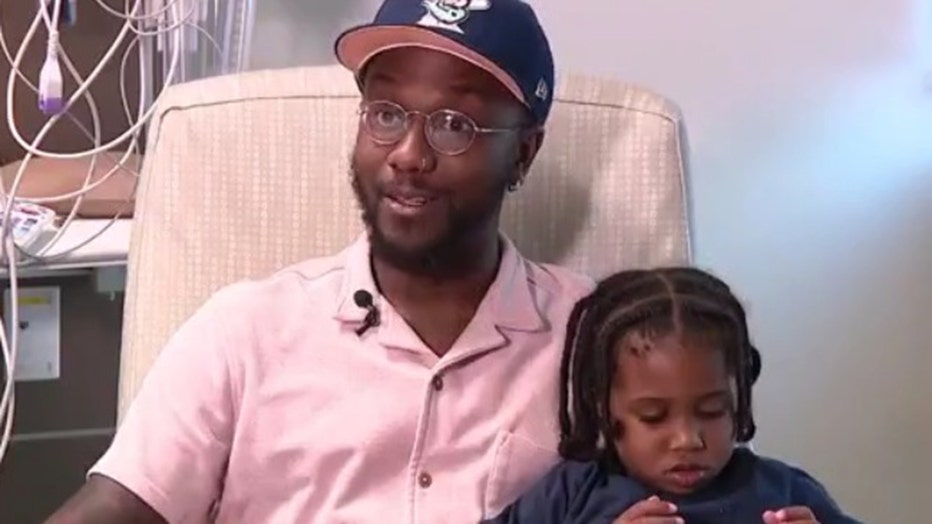 It was the icing on an extra special birthday cake, that MylaRae can now share with Polk County Sheriff Grady Judd, who was celebrating his birthday on Friday, and said he was super excited to now share the same birth date with the baby girl.
"The whole pregnancy was something new. I learned something new throughout the entire pregnancy," Johnson said. "And we all knew she was going to come with some type of twist."
Johnson and Moulterie says they are incredibly grateful for the deputies, who they say had already come to the hospital to check in on them.
Johnson and MylaRae are healthy and getting some much-needed rest.