Pinellas detectives investigating explosion at bank ATM in Oldsmar
OLDSMAR, Fla. -  A multi-agency investigation is underway after an overnight explosion occurred at a bank ATM in Oldsmar.
Pinellas County deputies responded to an alarm call at the BB&T bank on Tampa Road around 3:20 a.m. Monday. When they arrived, they described an explosion to the drive-thru ATM, which is located on the south side of the building. 
The view from SkyFOX showed the ATM at the end of the drive-thru lanes had been significantly damaged, apparently blasted into several sections. Pieces of the machine littered the drive-thru area, and investigators had cordoned off the parking lot so they could document the scene.
The FBI, ATF, and PCSO are all on hand, checking surveillance video from the bank and nearby businesses for any clues.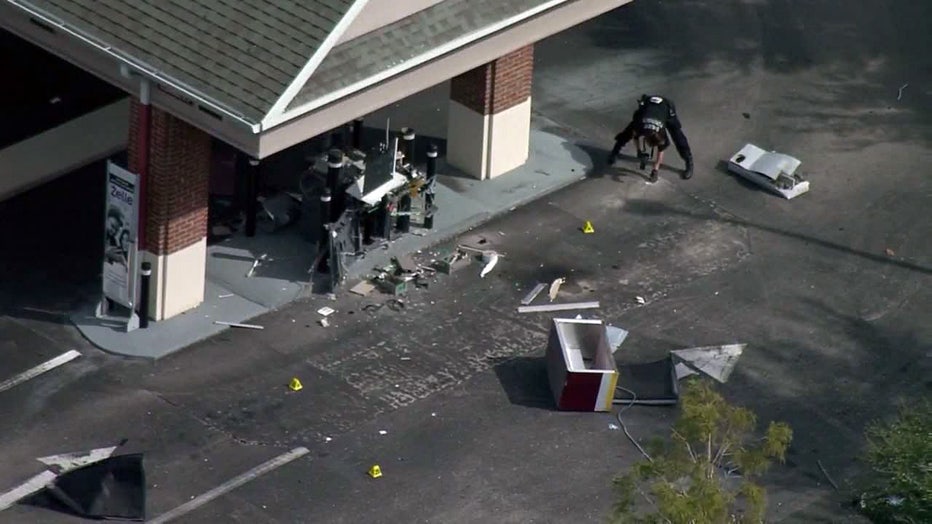 "When we got here, it was marked off on the road and the back parking lot," offered Haden Page, who works nearby. "I thought there had been an accident around the corner or something but I checked out back and you can see the parts of the ATM all over."
Investigators say it's too early to know if the explosion was part of an attempt to steal cash from the ATM.
Anyone with information is asked to call the Pinellas County Sheriff's Office at 727-582-6200.