Piquant's "no fuss" apple pie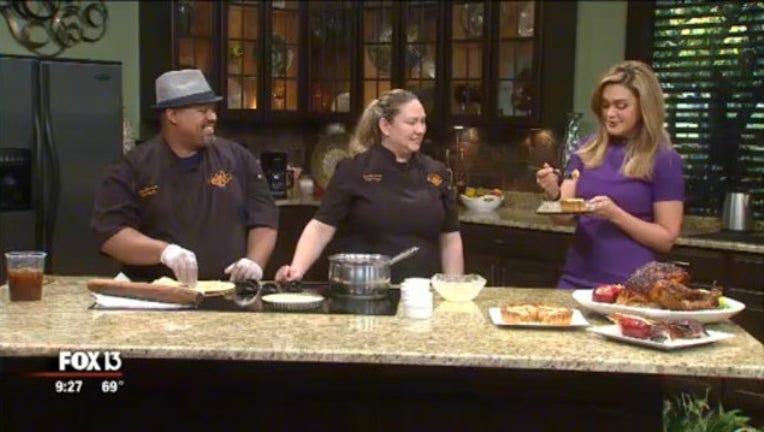 Ingredients
1 1/2 cups all-purpose flour.
1/4 teaspoon fine salt.
1 teaspoon granulated sugar.
4 tablespoons vegetable shortening, cold
4 tablespoons cold unsalted butter (1/2 stick), cut into small squares.
4 to 5 tablespoons ice water.
1.       Combine flour with sugar and salt in the bowl of a food processor. Pulse twice to incorporate. Spread butter and shortening over surface. Pulse until no dry flour remains and dough just begins to collect in clumps.
Sprinkle water over surface and pulse until dough comes together.

Place dough on floured surface

Fold and press dough by hand until it comes together into a ball. Divide ball in half.

Form each half into a 4-inch disk. Wrap tightly in plastic and refrigerate for at least 2 hours before rolling and baking.
Chef's note – you may use all butter instead of half shortening/half butter.
Apple Pie Filling
Ingredients
3 Granny Smith apples, peeld and cored
1 cup light brown sugar
1 cup granulated sugar
1 cup butter, cut into small squares
1 tablespoon cinnamon
2 tablespoon lemon juice
3 tablespoons cornstarch slurry (cornstarch mix with water to a heavy cream consistency)
1.      Slice apples into thin slices
2.      Place all ingredients in a saucepot, except for cornstarch slurry
3.      Bring to a boil, lower heat. Simmer while stirring occasionally until apples are tender.
4.      Add cornstarch slurry while mixing with a spatula. Cook for another 2 or 3 minutes. Turn off heat and allow to cool before using.