Pro-choice and pro-life activists mark 1st anniversary of Roe v. Wade since landmark decision was overturned
ST. PETERSBURG, Fla. - Sunday marked 50 years since the U.S. Supreme Court's Roe v. Wade decision guaranteeing a constitutional right to abortion, and seven months since it was overturned. Those on both sides of the abortion issue took to the streets across the country and in the Bay Area. 
Pro-choice activists and supporters lined the streets of Central Ave in Downtown St. Pete Sunday. 
One protester,  Doris Compassi held a sign reading "Protested in the 70s, still protesting in my 70s." 
"I thought I'd have to burn my signs a long time ago," said Compassi. 
She was out celebrating on this day 50 years ago - when the landmark Roe v. Wade decision granted women the constitutional right to abortion.
READ: Women's marches expected to draw thousands on 50th anniversary of Roe v. Wade
She said the event has a new meaning this year because it is the first rally since the Supreme Court overturned the decision in June. 
"I was devastated. I said after all the years, after having it for 50 years, I feel so bad for the younger girls, they really need the healthcare," Compassi stated.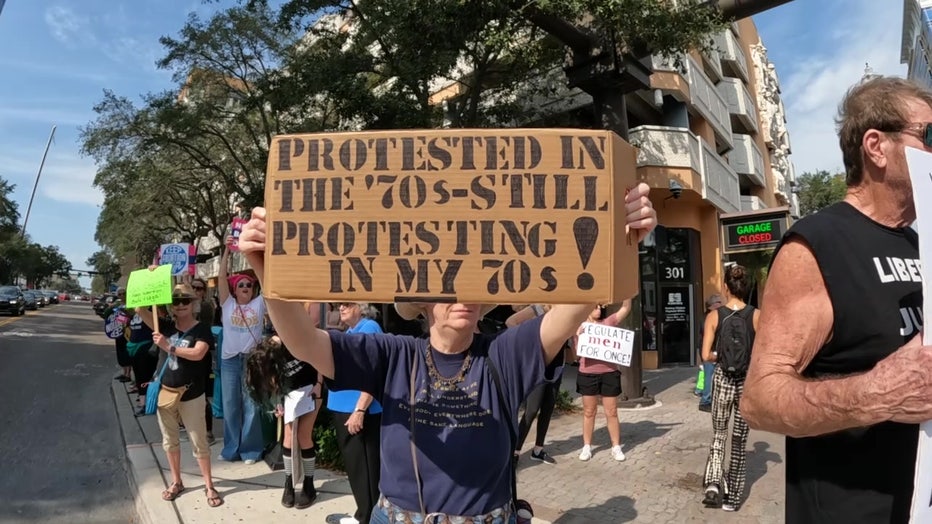 Protester holds sign at St. Pete Roe v. Wade rally. 
The event is held every year on the Roe v. Wade anniversary, but Sunday's post-Roe rally had the biggest turnout yet.
"It says to me that this is a snapshot of how the majority of Floridians and Americans who want to see abortion rights stay the law of our state and the law of our land," states Amy Weintraub, reproductive rights program director for Progress Florida. 
READ: House GOP push anti-abortion measures after gaining majority
For pro-life activists who also stepped out around the country, this weekend including the "The March for Life" in D.C. was a celebration and an effort to push their cause forward.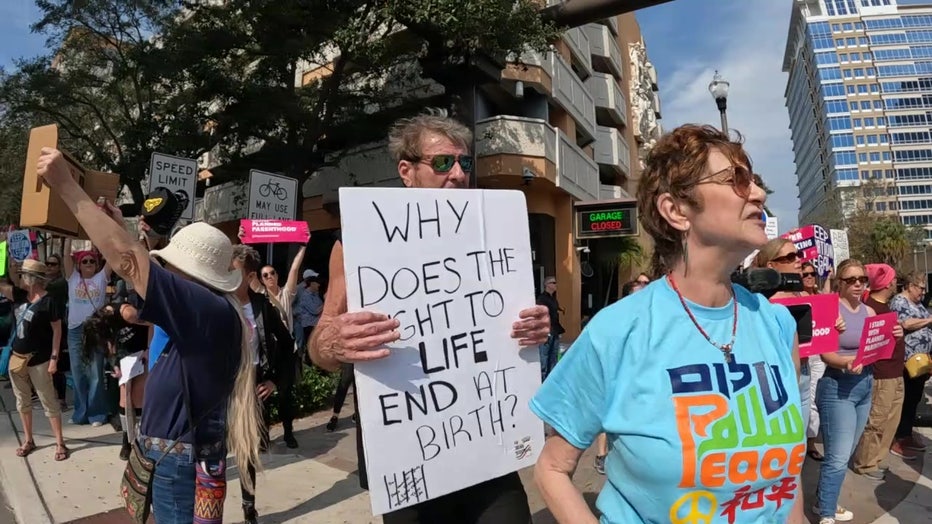 Protesters lined the streets of St. Pete on the 50th anniversary of Roe v. Wade.
"Countless times we chanted the slogan, 'Hey, hey, ho, ho, Roe versus Wade has got to go.' And today we celebrate. Roe is gone," shared Chris Smith. 
Meanwhile, as rallies took place across the country, Vice President Kamala Harris put Florida in a national spotlight to commemorate the Anniversary, giving a speech from Tallahassee."
READ: Indiana doctor who provided abortion drugs to 10-year-old rape victim defends actions in court
The Vice President chose to speak from Florida intentionally, as Democrats are on guard for new efforts to restrict abortion from Republican Gov. Ron DeSantis.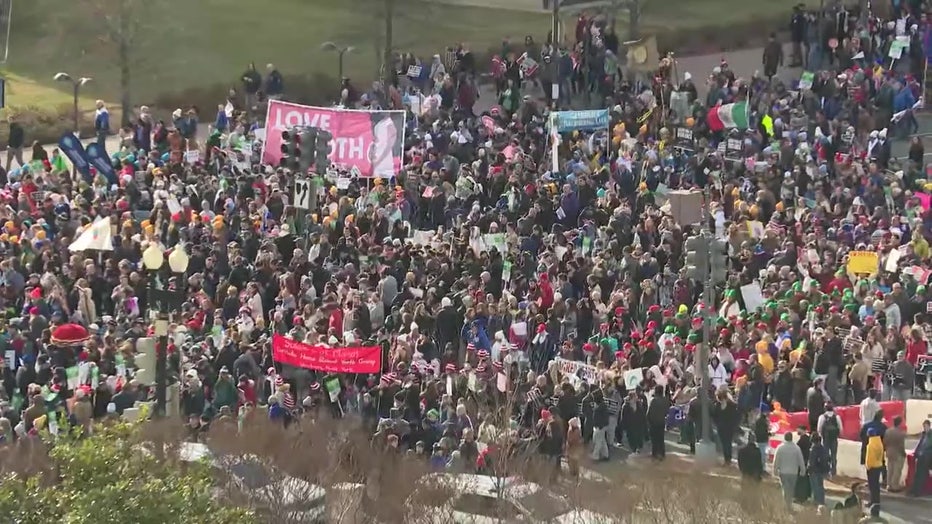 Marches took place across the country on the 50th anniversary of Roe v. Wade. 
"On this 50th Anniversary let us resolve to make history and secure this right," Harris stated. 
In St. Petersburg, the city council is tabling a proposal that would affirm a right to privacy for women getting an abortion and provide financial support for a Bay Area abortion fund. 
A similar resolution already exists in the city of Tampa and another discussion about the proposal is taking place on Thursday.