Murder trial for man accused of stabbing two with machete begins in Tampa courtroom
TAMPA, Fla. - Prosecutors told a jury Tuesday that Jason Hartness is the machete-wielding killer who targeted a Ruskin man for no reason.  
They say he then turned the machete on another man and stabbed him in the back of the head, but that victim got away.
On the afternoon of April 28, 2021, prosecutors said Hartness showed up high on meth to a home in Ruskin to hang out with friends and do drugs.  
RELATED: Ruskin man on trial for first-degree murder rejects plea deal
It was his first and only encounter with the victim, Daniel Sanchez, who was in a bedroom and lying on a bed. Prosecutor Chinwe Fossett said Hartness was holding a machete and never said a word. 
"All of a sudden, the defendant gets up, pulls the sword, and puts it right through the body of Daniel Sanchez," explained Fossett.
Blood splatter on the walls show the violent attack that the victim never saw coming.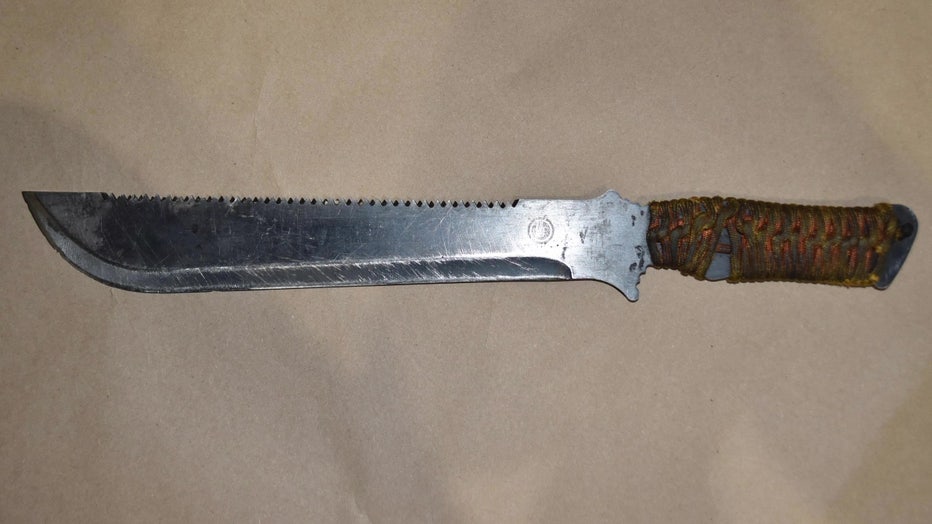 "He never had the opportunity to fight back or defend himself," explained Fossett. 
Fossett said the machete went through the victim's entire body, and he had no chance of surviving the attack, but it didn't end there. 
Another man who reacted to the violence, Philip Carver, was stabbed with the same machete in the back of the head. Prosecutors said Carver ran for his life and was able to get away. Witnesses say both men were attacked for no reason. 
But the defense says none of the witnesses can be trusted. Hillsborough public defender Jamie Kane said many lied to police during the investigation, and were high on drugs.
"Wouldn't you wanna know why that person lied to you? Don't you wanna know why that person would lie to police?" asked Kane to the jury. 
However, prosecutors showed the jury other knives Hartness had in his car, along with blood stains found in his vehicle that placed him at the crime scene.
The trial is expected to wrap up by the end of the week. Hartness is charged with first-degree murder and attempted murder.