Residents worry developers will take advantage of new zoning rules in St. Pete
ST. PETERSBURG, Fla. - Property owners in some parts of St. Petersburg can now convert their homes into, or build up to, four residences on lots that used to be designated only for single family residences.
City council approved the new zoning rules in a 7-1 vote Thursday night. The new rules went into effect immediately. 
City leaders say it's a step toward tackling the crisis of affordable housing, but several residents who the changes affect say they feel like those city leaders didn't listen to their concerns.
Stephanie Pitts has lived in a home in the Crescent Lake neighborhood for close to three decades. Her property is next to parcels affected by the zoning rule changes. In total, 3,000 parcels in the city are under the new rules. 
RELATED: St. Pete city council approves church housing project despite concerns from neighbors
"We're just very disappointed," she said about the vote. "We knew this was an uphill battle from the very beginning," Pitts said.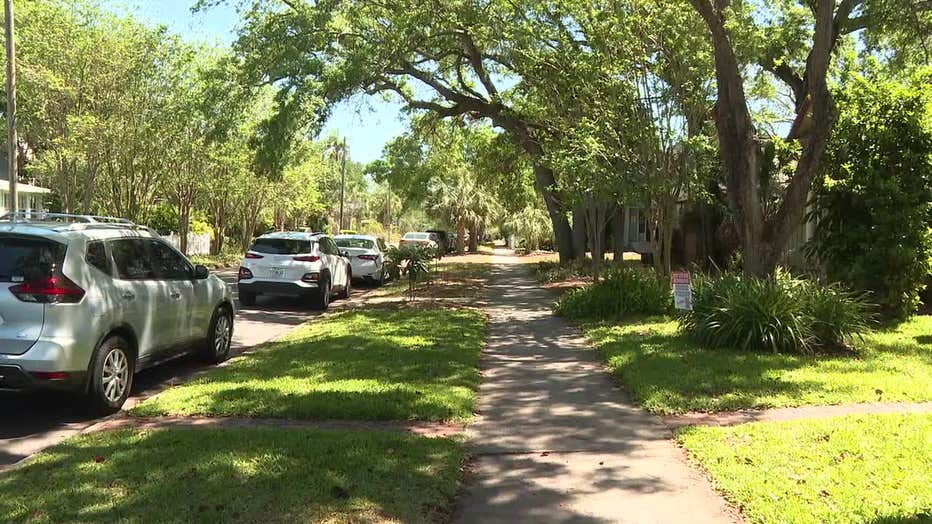 Neighborhood view in St. Petersburg
The new zoning rules allow duplexes, triplexes and quadplexes to be built on single-family properties along higher-traffic areas. The new rules say structures must be limited to two stories with four units on each lot. The buildings have to resemble others in the neighborhood and have to be built within 175 feet of heavily traveled roads.
According to the city, the multi-family buildings must have access to an alley for parking, a minimum of one parking space per unit, a designated extra space for garbage pickup and garbage containers for three or more units. For buildings with three or more units, alleys must be paved across the entire surface, from the property to the closest street. 
"It's going to be a nightmare because one space per unit is not enough parking," Pitts said.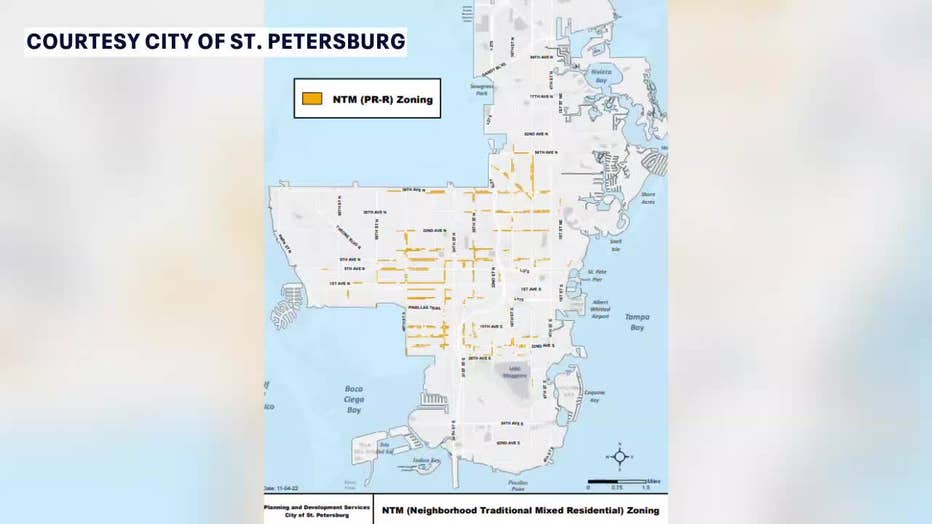 Map of zoning changes in St. Petersburg
View St. Petersburg's interactive map of where the rezoning would apply by clicking here.
Pitts worries about parking and traffic headaches, but mostly that the small neighborhood feel of her community will change. 
"There's a lot of anger in this room right now," she said to the council members at Thursday's meeting.
She was one of 74 people who voiced their disapproval for the changes at Thursday's meeting, while 19 voiced their support. 
"If NTM-1 won't create affordable housing it's because it doesn't go far enough," Max McCann, a St. Pete resident who spoke in favor of the changes, said at the meeting. "That's not a reason to oppose it. It's a step in the right direction," he said.
Several council members told the public they have been listening and believe this is a well-thought-out plan. 
"We want there to be housing for every step of the way and to always have those options for people to call St. Petersburg home," Council member Gina Driscoll said. "I think we can have both. I think what we have before us is a way to protect our neighborhoods and increase our housing supply," she said.
"There's so much fearmongering around this topic," Council Chair Brandi Gabbard said. "I want to really focus on what the goal is, and the goal is creating more opportunity where all of our community can grow, grow together and grow together as neighbors who welcome each other."
Council member John Muhammad said members of the public he spoke with worry developers are waiting to scoop up properties and convert them into multifamily homes. However, according to city employees' findings, the "Data does not support that," Muhammad said.
Council member Ed Montanari, who spoke about his concerns regarding neighborhood preservation, was the one vote against the proposal.
Montanari said he's "very concerned" about the proposal for a couple of reasons. 
"A core value to me is to protect our neighborhoods," he said.
Meanwhile, a motion to exclude historic neighborhoods from the rezoning changes failed Thursday night for the second time. 
Mayor Ken Welch commented on the zoning changes saying in a statement, "We are growing exponentially with more and more people moving to St. Petersburg, and while we cannot create more land for housing, we can carefully and strategically create more density with existing single-family homes."