Ron DeSantis slides in polls as Republican challenger Donald Trump's popularity soars
TAMPA, Fla. - Florida Governor Ron DeSantis has been a top 2024 choice in primary polls long before he made things official on Wednesday night, but his announcement comes at a time when support appears to be falling off precipitously.
Donald Trump continues to lead the GOP pack by double digits. The Real Clear Politics Average of polls shows Trump with more than half the vote and a 34-point lead over other Republican candidates. DeSantis is polling second with just under 21 points.
Despite making substantial gains in the polls since last summer, at one point pulling within 13 points of Trump, DeSantis' popularity among GOP voters has slumped while Trump is surging. 
Early signs of trouble for DeSantis came at the beginning of March when a straw poll of Conservative Political Action Conference (CPAC) attendees overwhelmingly picked Trump as their favorite for the 2024 race with 62 percent of the vote.
RELATED: It's official: Florida Gov. Ron DeSantis is running for president
Since the start of April, DeSantis' polling numbers have rapidly declined while the former president's have jumped to their highest point in the last year.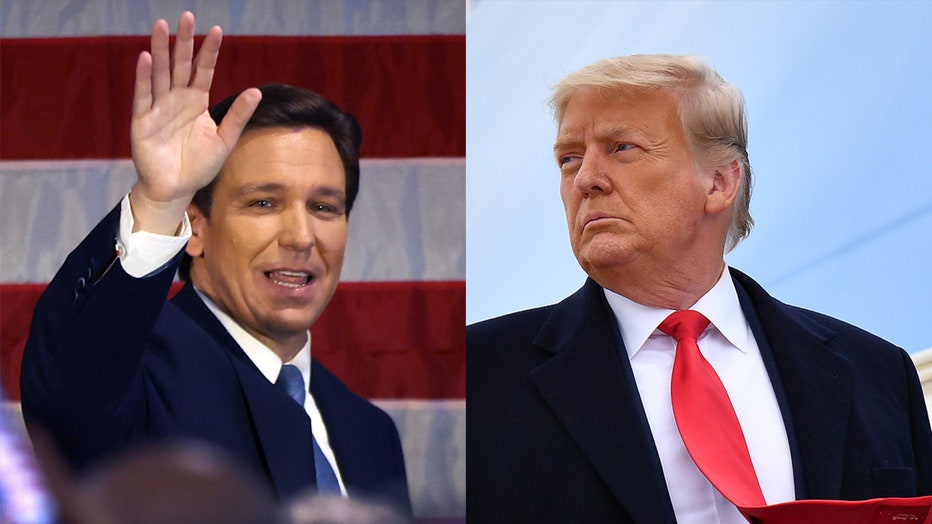 Ron DeSantis and Donald Trump side by side. 
Trump's popularity has spiked despite ongoing legal woes and a looming federal indictment.
RELATED: Ron DeSantis Twitter Spaces chat with Elon Musk: What is it, and how does it work?
Meanwhile, DeSantis' decline comes as he's made the rounds nationally and snagged near-daily headlines highlighting various culture wars he's waging in Florida.
Former Vice President Mike Pence, who's yet to officially announce a bid for 2024, Former UN Ambassador Nicky Haley, entrepreneur Vivik Ramaswamy, and Senator Tim Scott are currently polling in single digits.