Michigan man takes on 1,500-mile walk through 6 states, including Florida, in honor of veterans
SARASOTA, Fla. - Each step Jack Huffman takes brings clarity and a sense of peace. 
"It really started with just taking that first step. Wanting to change my life and live better and live healthier, and just started walking," he said. "Started with two miles to four miles a day, and then I was walking 40 miles a day."
On Saturday, May 13, he will embark on a 1,500-mile walk in 60 days through six states. He'll carry a homing pigeon to be released once he arrives at the sixth annual Salute Our Warriors' event in Rochester Hills, Michigan. 
MILITARY MAY: Florida veteran creates BBQ sauce using only Sunshine State ingredients
From his hair to the wagon he'll be pulling, you won't be able to miss him.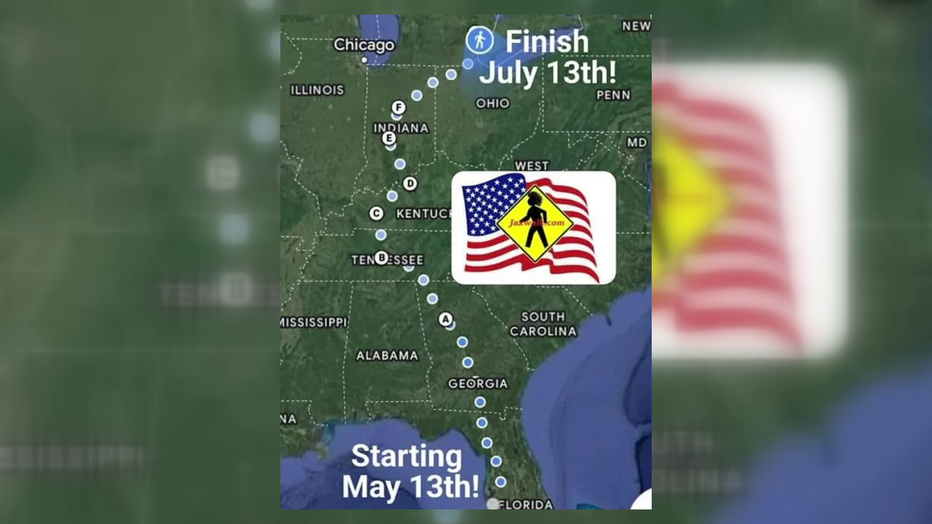 "I don't wear the mohawk up too much," Huffman said. "It tends to be a little bit of a dirt collector, but people are honking and waving and stopping all through the small towns and big cities."
Huffman is an Army veteran who served two years as a helicopter mechanic. After his service, he noticed a change in himself. 
"I was dealing with a lot of my own problems with bad health and bad decisions with not eating right and walking really helped me with that," Huffman said. "I just started one day and changed my whole diet and changed my whole life."
READ: Filmmakers with Tampa Bay area ties capture record-breaking skydives for documentary
Since then, he formed Jaxwalk, so his walks could give back.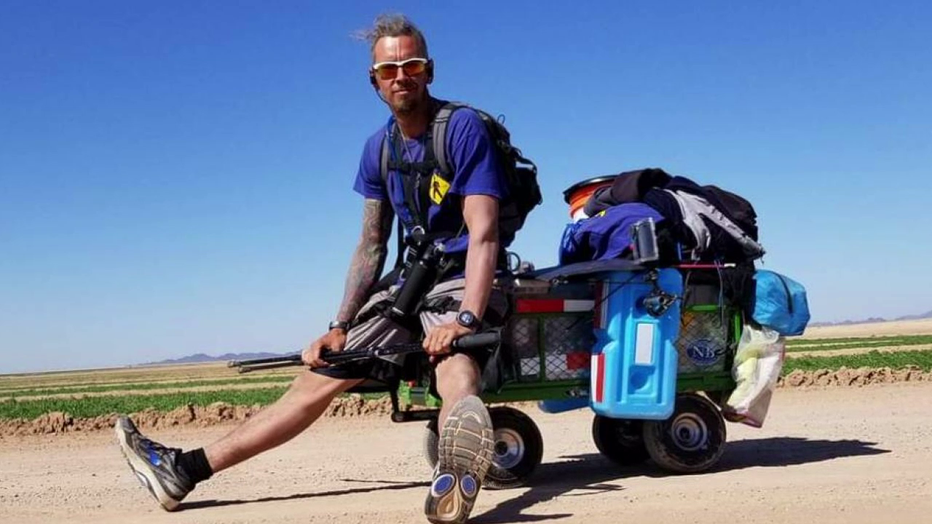 It started in 2019 with a 2,841-mile walk from Newport Beach, California to Tybee Island, Georgia for St. Jude Children's Hospital. He's also walked across Michigan's longest lake to Lake Trail in six days. 
Veterans will be his focus on this upcoming walk. 
"They've put their lives on the line so that we can have our lives that we have today, and they give me the ability to go chase my dreams, and I think we just owe it to them," Huffman said.
He will start Saturday morning at the National Cemetery in Sarasota and end at the Salute Our Warriors event. 
MORE: Corsos for Heroes non-profit provides veterans, first responders comfort with service dogs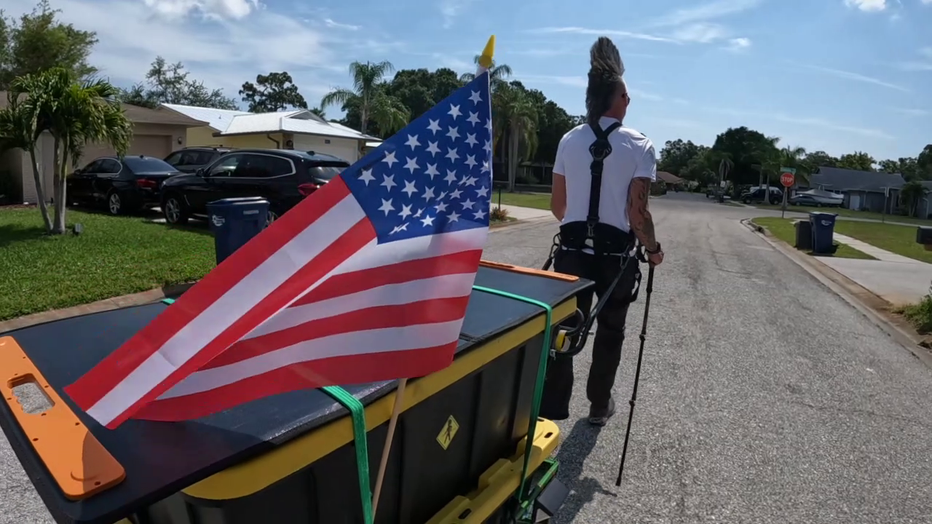 The event raises money for the Fallen and Wounded Soldiers Fund. 
"He's a really big advocate not just for our event, but for veterans all over our country," said Ziad Kassab with the Salute Our Warriors committee. "He's so committed. He's like 'if I don't raise the money I will sell my stuff to make sure I hit the goal.'" 
Huffman's son and family keep him going, but his motivation also comes from veterans he meets through his journey.
"They tell me their stories and how I've helped them," he said. "It really keeps me moving and going. Even on the hot horrible days, just keep moving."
Jacks walk starts Saturday at 8:30 a.m at The Sarasota National Cemetery located at 9810 State Road 72. You can follow or support Huffman at jaxwalk.com or on the Jaxwalk Facebook page.