Filmmakers with Tampa Bay area ties capture record-breaking skydives for documentary
TAMPA, Fla. - A group of former special operations soldiers went on a high-flying mission to complete seven skydives in seven days over seven continents.
A film crew captured this epic journey for the upcoming documentary called "Triple 7."
Director Dan Myrick is best known for his work on the horror classic "The Blair Witch Project." For him, the documentary was a different kind of thriller. 
MILITARY MAY: Corsos for Heroes non-profit provides veterans, first responders comfort with service dogs
"Even for a documentary, we were moving incredibly fast because part of the whole point was to cover seven continents," said Myrick. "Once we jumped in Antarctica, we had to hop a plane immediately, fly commercial for 10 hours and then do a jump, get right back on the plane. So it was moving really fast."
For this documentary, Myrick teamed up with his longtime friend as well as collaborator and producer Kristian Krempel.
"A lot of questions went through my head because I'm not a skydiver, neither was Dan [Myrick]," said Krempel. "He and I grew up together in Longboat Key. We were looking for something that would raise a ton of awareness, and we needed to set some world records. Apparently inside the skydiving world there's this holy grail of skydiving, and it's seven continents. No one apparently in history has ever skydived all seven continents."
The skydiving adventure became an important cause for them for a few reasons.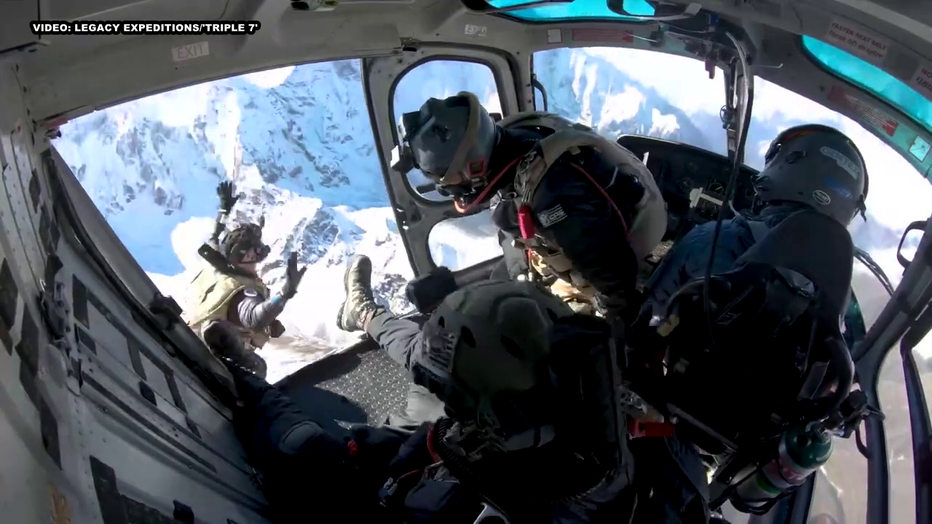 READ: 100-year-old WWII veteran plans to bench press 100 pounds this year: 'That's my goal'
"Telling these guys stories. Not only for them but also the guys that they're jumping for and the guys that they served with that are no longer with us and their families I think is important," said Myrick.
Krempel said each one of the jumps was dedicated to a former fallen operator. 
They also produced the documentary to give back and raise awareness for the Folds of Honor Foundation, which provides scholarships to children of America's fallen or disabled military.
"It's really a big part of the peace of mind when they go into combat, they go into some of these very dangerous missions knowing in the back of their mind that if something does happen to them that their family is covered in that regard and that's a big deal," said Myrick.
"I got my fair share of travel and being able to help raise $7 million for Folds of Honor Foundation and actually make a difference. That was all I needed," said Krempel.
MORE: Neighbors rally behind Navy veteran whose wife died in fire that destroyed Duette home
And, they accomplished what they set out to do. Myrick said, "we managed to break the world record, actually several world records."
They returned to their roots in the Tampa Bay area for another skydive.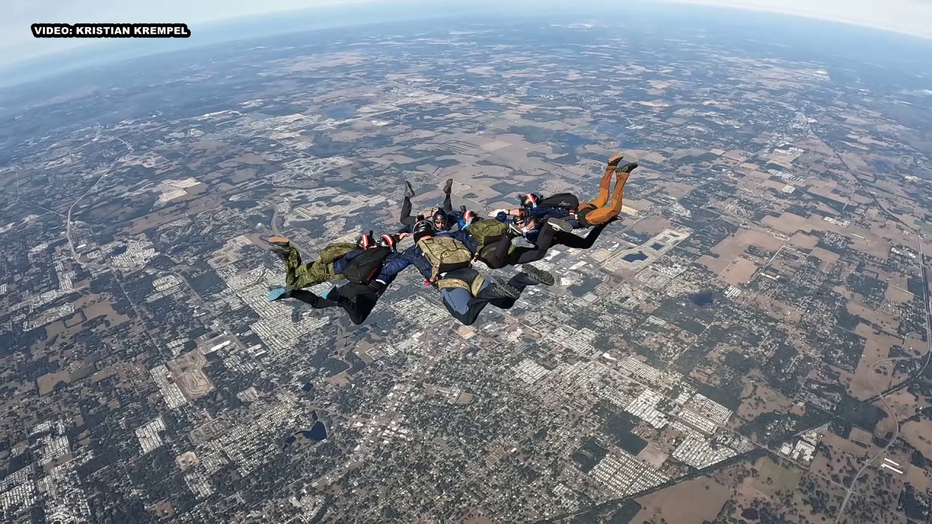 Krempel said this eighth and "ceremonial" jump wasn't necessary, but they all got on the plane and flew 35 hours back from Australia. 
"It was very important that we did that in Tampa," Krempel said. "The fact that MacDill is such a large employer here. I felt I owed it to this city and the county to do that."
With this jump, they paid tribute to those lives lost at the end of the war in Afghanistan.
"That was in honor of the 13. The Kabul 13," said Krempel.
PREVIOUS: Local businesses show support through Military Bay, USA
Skydiving over seven continents may seem daring, but these filmmakers said it's nothing compared to the heroic actions of the brave. 
"We honor our soldiers. We give them the respect, because they are doing the hard job. They're doing the hard stuff that not a lot of people want to do," Myrick said.
For more information on the documentary, click here. For more information on Folds of Honor, click here.