Sarasota's Boyce Avenue gains worldwide attention through YouTube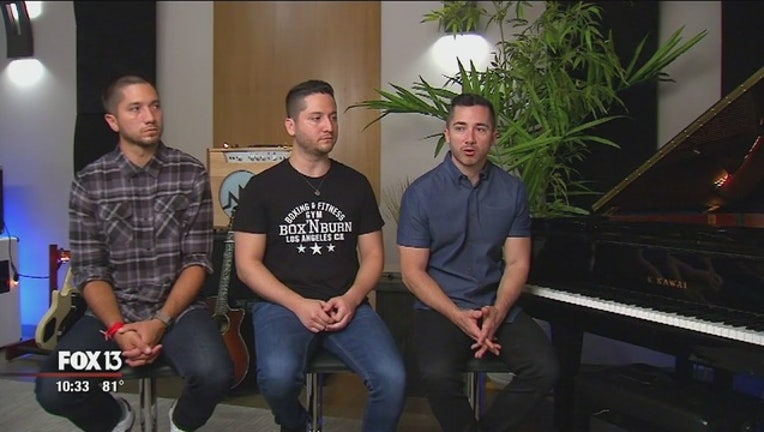 article
SARASOTA (FOX 13) - From their studio in Sarasota, Boyce Avenue is reaching a global audience through their YouTube videos.
"Being able to make videos from the comfort of our studio here in Sarasota allows us to be creative but also to provide for our families," said Daniel Manzano.
In just over 10 years, Daniel and his brothers, Alejandro and Fabian, have become the most-viewed independent band in the world, with more than 11 million YouTube subscribers, surpassing even some mainstream artists.
"More and more people from all corners of the globe seem to be finding our videos or listening to our songs," said Daniel.
Their path to success is rooted in their hometown.
"It was so many years of us doing that together at local talent shows or our high school that when they went off to pursue their various degrees, it was always in the back of our mind that we would love to come back and do music together," said Alejandro.
Even coming up with the name for their group.
"It's a combination of street names we grew up in or on here in Sarasota," said Daniel.
To gain an audience, they put out videos on YouTube of original and cover songs.
"It is part of the strategy.  I mean the covers is what brings the eyes to the band, brings the eyeballs to what we're doing and we're like if you like this why don't you check out our originals that we wrote," said Fabian.
The industry took notice. 
"We actually did sign to a major label. Goals were different. YouTube was young. We hadn't seen the full potential of it, really," said  Daniel.
So they took control of their destiny and started their own label, 3 Peace Records.
"One of the major pros of being independent is just having a direct relationship with your fans and just being able to upload content, schedule your content, make the kind of content that you want," said Alejandro.
Their millions of fans include some of the biggest stars in entertainment.
"There's some people who we've gotten shoutouts from who we looked up to when we first got into the business or early on, like Kelly Clarkson or Michael Buble. But there's also artists like Fifth Harmony that we worked with before they were big," said Alejandro.
They recorded a song with one of their famous fans, actress Sarah Hyland.
"That's kind of an exciting collab concept for us is to take somebody who is not known for music but has maybe always had a passion for it and to give them that outlet through our channel," said Alejandro.
They have their own wish list of other musicians they would like to work with.
"Shawn Mendes, John Mayer, Chris Martin," said Fabian.
They've traveled to more than 30 countries, but they have no desire to leave for bigger cities.
"We love it here we were always very proud when we go out and tour we always brag about Sarasota and we try to tell people about it just how beautiful the beach is how nice the people are," said Fabian.
They continue to be innovative while staying grounded.
"One of the humbling aspects of what we do is to realize how broad and widespread and international our message has gone and that's meant a lot to us and it's important to keep doing that over the years," added Daniel.
For more information about Boyce Avenue, http://www.boyceavenue.com/