'Space jellyfish,' sonic booms herald SpaceX's first Falcon Heavy flight of 2023
CAPE CANAVERAL, Fla. - SpaceX's Falcon Heavy rocket blasted off for only the fifth time Sunday evening, a spectacular twilight launch from Florida that sent a pair of military satellites into orbit.
It was just before 6 p.m. when all 27 Merlin engines – nine on each of the rocket's three boosters – roared to life under the clear but chilly sky. As the rocket climbed back into the sunlight, the setting sun illuminated the expanding exhaust plume, creating a glowing, growing cloud.
The so-called 'space jellyfish' effect often happens during sunrise and sunset launches, but this time, the deceleration burn from both side boosters added to the display, producing a dramatic scene visible from as far away as North Carolina.
Liftoff of the USSF-67 mission.
Moments later, two sets of triple sonic booms crackled across the Florida coast as the side boosters – each making their second flight – zoomed back for a synchronized seaside landing just down the beach from the launch pad. The rocket's center core, in a rare move for SpaceX, was allowed to fall into the ocean, unrecovered.
Until last fall's debut of NASA's SLS rocket on the Artemis I mission, the Falcon Heavy – essentially three Falcon 9 rockets strapped together – was the world's most powerful operational rocket. Some argument could be made for it to retain that title since the next SLS launch may still be a few years away, while there could be as many as four more Falcon Heavy flights this year alone.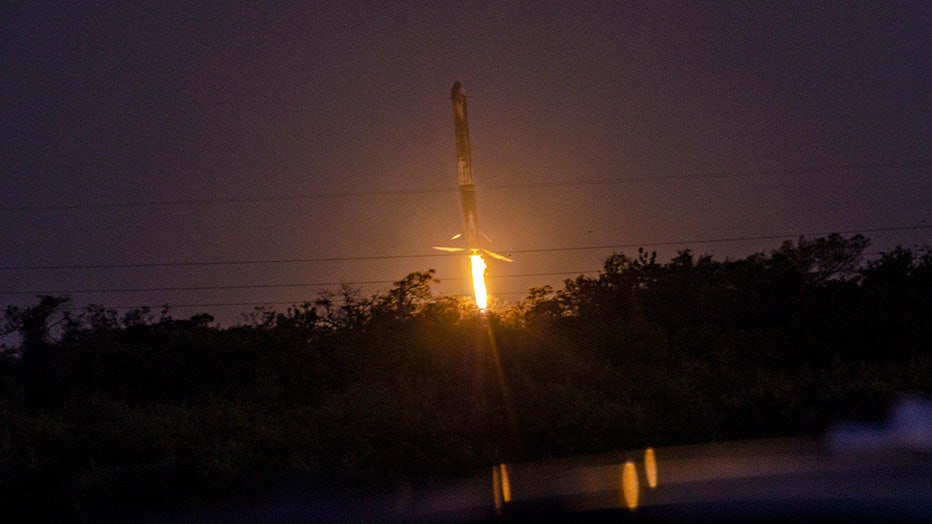 One of the two Falcon Heavy boosters returns for a landing. (FOX photo)
The Falcon Heavy famously debuted in 2018 by launching a Tesla roadster into space. Since then, two of its three flights had been for the Department of Defense.
Sunday's launch, officially dubbed USSF-67, was the third such military mission. The payload included a Space Force communications relay satellite destined for geosynchronous orbit 22,000 miles up. A second satellite carried what the Space Force called "multiple, diverse payloads" including some technical prototypes and experiments.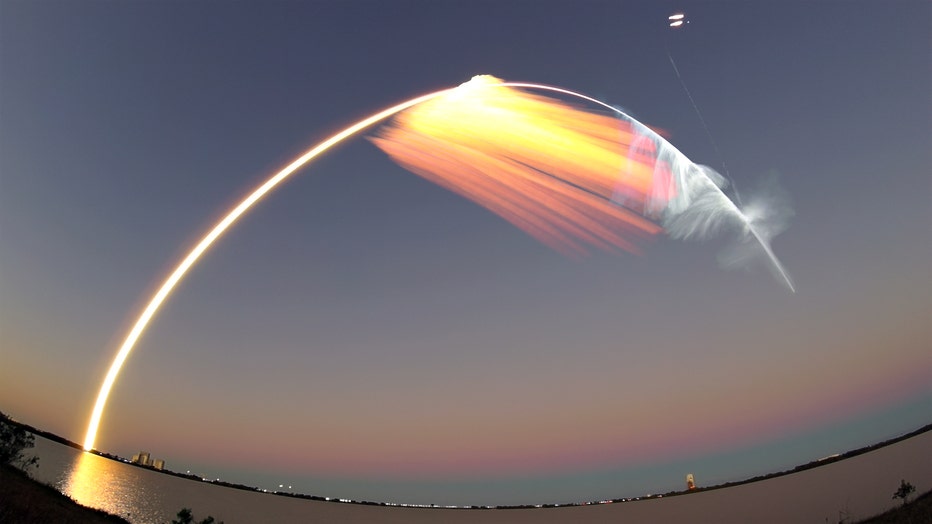 Extended time-lapse of the USSF-67 Falcon Heavy launch, including the boosters' reentry burn. (FOX photo)
"While the launch itself was impressive, I am most proud of the fact that we placed important capabilities into space that help our nation stay ahead of very real and growing threats," Maj. Gen. Stephen Purdy offered in a statement confirming the mission's successful launch.
SpaceX expects a busy 2023, with dozens of Falcon 9 and Falcon Heavy launches for the military, NASA, and other commercial customers, while another all-private astronaut crew is scheduled to debut as soon as March.
Meanwhile, Elon Musk says his company's giant Starship and its 33-engine Super Heavy booster is very close to its first orbital test flight from the SpaceX 'Starbase' in Texas.