St. Pete community leaders launch expanded 'Not My Child' to help keep kids out of trouble
ST. PETERSBURG, Fla. - This summer marks seven years of a push to help St. Petersburg's youth stay out of trouble through the "Not My Child" program.
"Before I got into this program, I knew I needed to hang around the right people. But there was some stuff that was influencing me peer pressure to do other things that I didn't want to," said 13-year-old Shaun Sams.
Children along with organizer Reverend Kenny Irby and other volunteers showed up Friday to start the Not My Child campaign, promoting anti-violence and pro-community messages for safe neighborhoods.
READ: 'It's a crisis': North Port daycare abuse allegations shed light on childcare shortage in Sarasota County
"During the summer, there's so much going on we have so much gun violence, so much going on, so we have to educate the parents as well as the students, the children to keep them out of trouble. That's the main thing," said Patricia Williams, a volunteer who has participated in the campaign for the past six years.
But, bad weather kept them from doing their usual walk around the city's neighborhoods Friday afternoon, so instead they explained why they changed their name. The community event originally known as "Not My Son" is now "Not My Child."
"In our community and within law enforcement we are seeing young girls and females involved in auto thefts and major burglaries and criminality," said Rev. Kenny Irby, the director of community intervention for the St. Pete Police Department.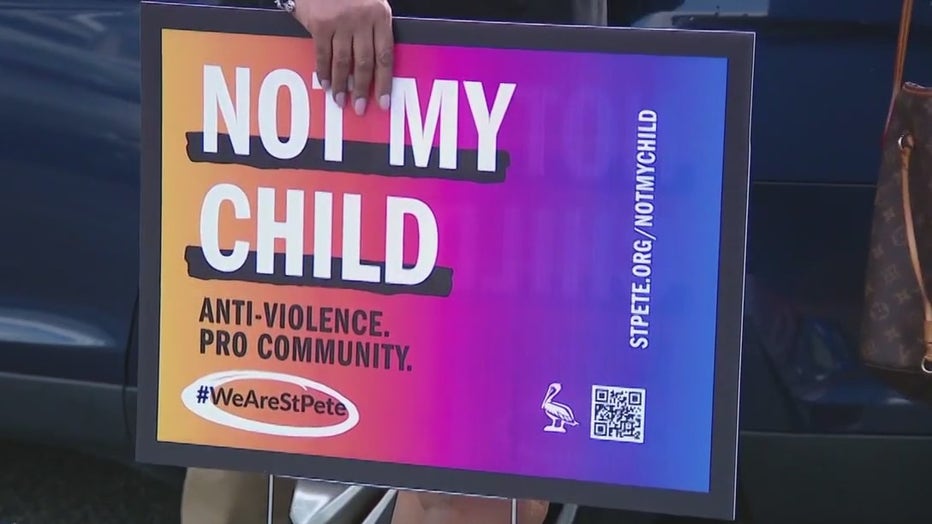 The goal is to break the cycle of violence, so the city's youth make better choices as adults.
MORE: Polk couple arrested in 'bone chilling' child abuse case
"The auto theft and burglaries that are happening that are predominantly perpetrated by young people in community, the arrest of a 14-year-old for shooting a 16-year-old that just happened this week, those kinds of things," said Irby. "It makes no sense that 12, 13, 14-year-olds are in the kind of criminality that's happening in our community where they should be more involved and supported, and this program does that."
Just a few hours before the walk was supposed to kick off from Mt. Pilgrim Baptist Church, St. Pete police investigated a shooting of two people roughly two miles away, and "Not My Son" signs were near the crime scene.
"That's the purpose of us putting the signs out in the community. We can only do what we can to prevent the violence from happening," said Williams.
So next week, the group will be back to try again, spreading the word about support and being involved on the right path.
"We can only do what we can do, put the signs out, hopefully they will take heed to the signs and come together as a village to try and save these children," said Williams.
The Not My Child campaign will be at Mt. Zion AME Church on June 2 to start their community walks, and they plan to do them every Friday for the next 11 weeks this summer.