St. Pete man shot, killed by officer after arming himself with mother's handgun, officials say
ST. PETERSBURG, Fla. - A mother and her granddaughter were hiding in a St. Pete home as the woman's son armed himself. The events that occurred after led to a deadly officer-involved shooting during the early-morning hours, officials said.
The shooting occurred in the backyard of a home, located at 4533 20th Avenue North. Chief Deputy Paul Halle of the Pinellas County Sheriff's Office, said the mother, 53-year-old Jill Kiley, called 911, saying her son, 31-year-old Cody, got her handgun and was threatening her.
Jill and her 4-year-old granddaughter, who is Cody's daughter, "retreated to a back bathroom and continued to provide updates to the St. Pete Police Department," Halle explained, adding the investigation is still in the early stages.
He said officers arrived within five minutes and tried to approach the home. At one point, Cody ended up in the backyard, where "officers heard him and moved back there."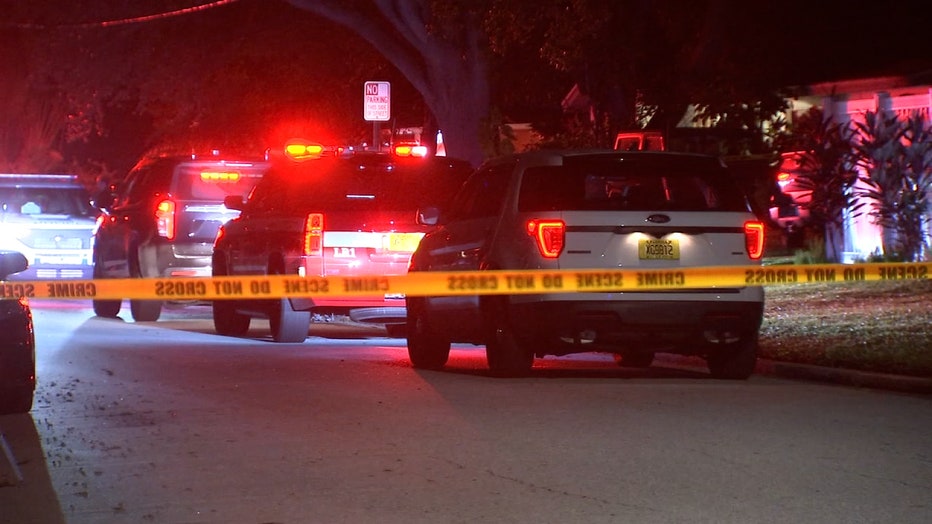 Scene of St. Pete officer-involved shooting at 4533 20th Ave. North on Sept. 12, 2022.
They made contact with him, Halle described. One of the officers, Stephen York, was K9 Loki's handler. The officer moved to the front and released Loki.
"Officer released Loki, Loki engaged with Cody and Cody still did not drop the handgun," Halle said during a Monday morning press conference. "At some point, the officer pulled the dog off of Cody. Cody was still threatening with the firearm and Officer York fired a number of shots and Cody is now deceased in the backyard."
The number of exact shots fired by Officer York is still being investigated. According to St. Pete Police Chief Anthony Holloway, Officer York has been with the agency since 2017.
The Pinellas County Use of Deadly Force Investigative Taskforce is investigating the shooting. The task force is comprised of officials from four local law enforcement agencies. Officials said it was part of an effort to build community trust and reduce and perception of a conflict of interest during investigations involving law enforcement officers.
"Just want to thank the officer that was involved and the people who called it in. St. Pete Police Department will take over after the criminal portion is done," Chief Holloway said.
Jail records show Cody had no recent arrests in Pinellas County. According to the clerk of court, he was cited in August for careless driving and operating a vehicle without insurance. 
This story is developing. Check back for updates.