Tampa Bay area sandbags available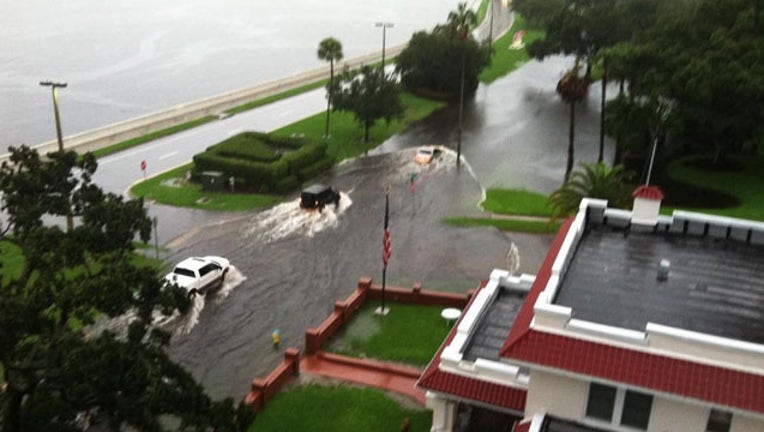 Hillsborough County is making sandbag materials available to the public at the County Public Works West Service Unit, 9805 Sheldon Road in Tampa.
Sandbags are also available at these two locations: 
South Service Unit at 8718 Old Big Bend Road

East Service Unit at 4702 Sydney Road
Sandbag materials will be available for Hillsborough County residents to make their own sandbags. Each resident must sign their name and provide their home address acknowledging the receipt of 25 sandbags or less.
Residents can call (813) 635-5400 to report flooding and road problems or to request additional information.
The city of Tampa also has sandbags available at:
Bobby Hicks Pool, 4201 W. Mango Avenue 

Jackson Heights Playground, 3310 E. Lake Avenue

City of Tampa Solid Waste at 4010 W. Spruce Street
A valid driver's license, utility bill, or electric bill will serve as appropriate identification.
See more at: http://www.tampagov.net/news/city-tampa-storm-update-august-2nd-1123-am#sthash.ThykYCjj.dpuf
In Pasco County, here are sandbag locations:
Fire Station #17, 2951 Seven Springs Blvd., New Port Richey

West Pasco Government Center, 7536 State Street, New Port Richey

J.W. Mitchell Park, 4025 Little Rd., New Port Richey

C- Barn on 30906 Warder Rd., San Antonio 

6420 Pine Hill Road, New Port Richey.
The Resident Information Center's information line is (727) 847-2411, (352) 523-2411, (813) 996-2411, and it's open 24/7.
More information: http://www.pascocountyfl.net/ArchiveCenter/ViewFile/Item/2915
In Pinellas County, sandbags are available for residents of Lealman. 
The address is: 3800 54th Ave. N. Sandbags are limited to 20 per person, and the location will be open until 7 p.m.
Material will be provided, but residents must fill their own. 
In Polk County, sandbag locations are available as a precaution: 
Babson Park Fire Station - 714 South Alt. 27 in Babson Park

Caloosa Lake Fire Station - 14684 N US Highway 27 in Lake Wales

Cottonwood Fire Station - 126 Cottonwood Dr. in Davenport

Crystal Lake Support Station - 2450 E Main St. in Lakeland

Golfview Fire Station - 2902 Hwy 60 East in Lake Wales

Indian Lakes Est. Fire Station - 221 Hogan Lane in Indian Lake Estates

Jan Phyl Fire Station - 333 American Spirit Blvd in Winter Haven

Mulberry Fire Station - 900 5th Street NE in Mulberry

Nalcrest Fire Station - 69101 Nalcrest Rd. in Nalcrest

Polk City Fire Station - 200 Commonwealth Ave. SW in Polk City

Providence Fire Station- 8936 Hwy 98 N in north Lakeland

Sleepy Hill Fire Station - 3030 Sleepy Hill Road in Lakeland

Solivita Fire Station - 1201 Cypress Parkway in Poinciana

Willow Oak Fire Station - 4210 Willis Rd. in Mulberry