Van crashes into Fowler Ave. restaurant, injuring 5
TAMPA, Fla. - At least five people are injured and one person is in the hospital after a van plowed through a Tampa restaurant. The crash happened at the First Watch on Fowler Avenue in Tampa around 2 p.m. Wednesday.
It was a terrifying few moments for diners Wednesday afternoon inside a First Watch in Tampa. Photos from Hillsborough County Fire Rescue show the aftermath after the van plowed through the front of the restaurant.
"Saw the van come towards the building faster and faster and then right through the front," First Watch General Manager Matthew Bruch said.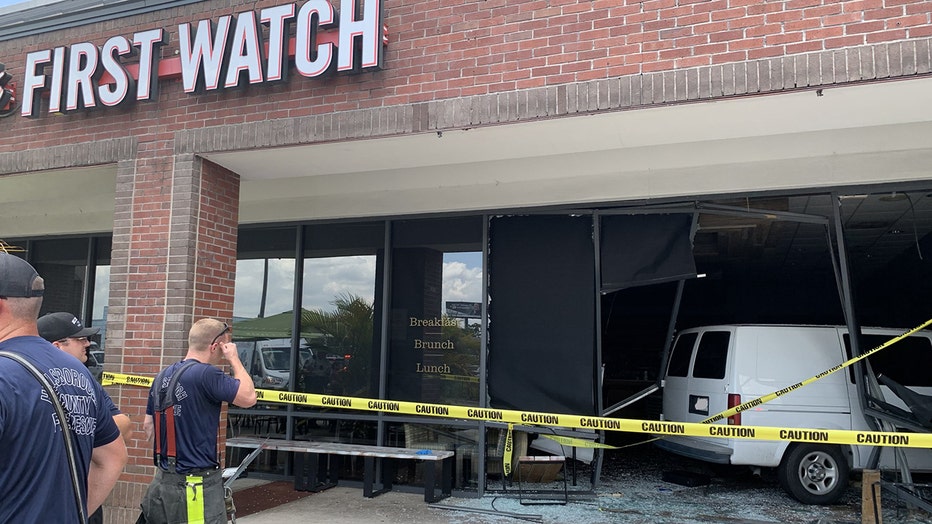 (Van crash into First Watch in Tampa (HCSO))
Seconds before the crash, Bruch was tending to guests in the dining room.
"Before I knew it was inside the building. Everybody was kind of frantic at that point, but everybody rushed to help. One of the guests went to the driver's side door of the car. One person went the guest that was sitting at the booth," Bruch said.
According to Hillsborough County Fire Rescue, at least five people were injured. Bruch says one person was taken to the hospital for non-life-threatening injuries. Two of his employees sustained minor bumps and bruises, but were released by doctors after evaluation and expected to be OK.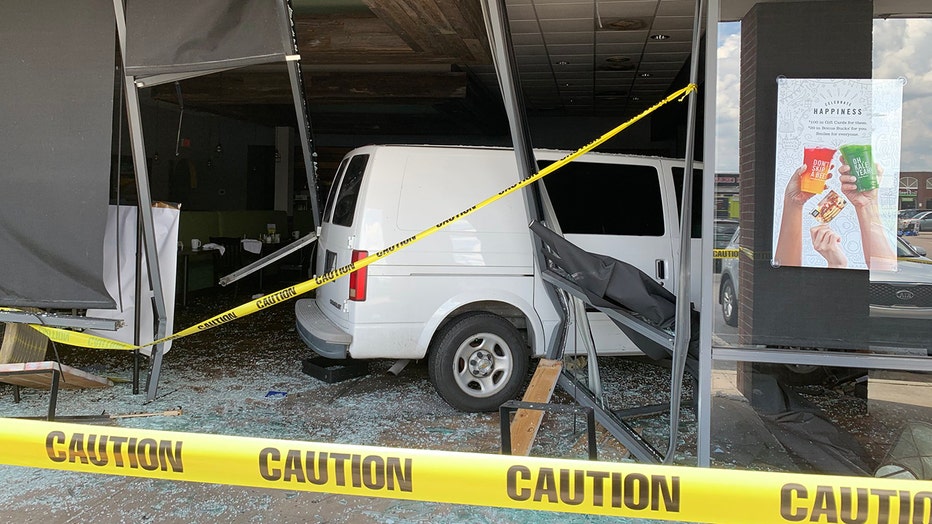 Van crash into First Watch in Tampa (HCSO)
As for the driver, fire rescue says the woman did want to be taken to the hospital.
"We have a host stand and a register stand as well so the van struck both of those things and then stopped right here at the corner," Bruch said.
The crash happened around 2 p.m. Wednesday at the First Watch on Fowler Avenue in Tampa near USF's campus. Bruch isn't sure yet how much repairs will cost but plans to re-open in the next few days.
Most of all, he says he's thankful no one was seriously hurt.
"I'll be sure to talk to the man upstairs tonight when I go to bed and say thank you for that. This is something I will not surely forget anytime soon," Bruch said.
As of Wednesday night, the restaurant is closed with the entrance boarded up with plywood.
At this time, Hillsborough County Fire Rescue isn't saying the official cause of the crash, but the owners say from what's he's learned it does appear to be an accident.