Wauchula great ape sanctuary hunkered down as Hurricane Ian barreled across Florida
WAUCHULA, Fla. - When Hurricane Ian barreled through Florida a couple of weeks ago, it wasn't just people and their pets hunkering down for dear life. Sixty-nine great apes and nearly two dozen caretakers rode out the storm at their sanctuary in Wauchula. 
It was the fifth hurricane they've weathered in nearly 30 years and the longest. 
"The storm sat on us for 16 hours, six of those hours as a category three wind," said Patti Ragan, the president and founder of the Center for Great Apes. 
READ: Non-profit flies Manatee County animals out of state as shelters reach max capacity
Ragan said they locked down the sanctuary's 15 night houses early in the afternoon on September 28. As the skies grew dark, and the winds increased, some apes grew stressed. 
Ragan said their caretakers were there the entire time, distracting them with games and comforting them with their presence. 
"It was scary because things were banging on the doors, but these buildings are built so strong. We have steel rebar in every cell, and we have a 12-foot concrete roof on it, so trees might go down on the night houses, but we know we're safe," Ragan said.
Lots of trees did go down, some of them on the center's expansive habitats. Three trees – a pine, a palm and an oak tree – fell on one of the orangutan's 42-foot-high enclosure.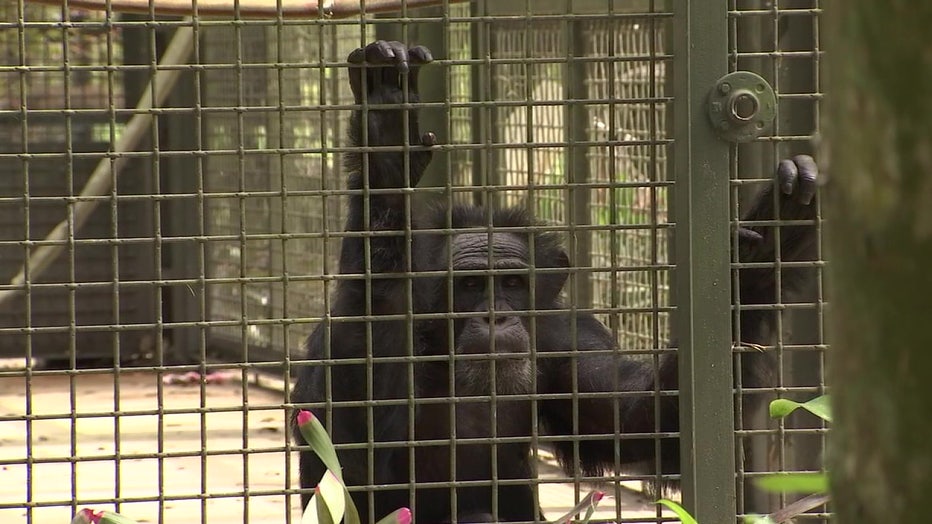 Orangutan Archie and his family were stuck inside their night house for about five days before they could be cleared. 
There was flooding too. The cart and walking paths became impassable as a small, meandering stream on the property turned into roaring rapids. 
It took a few days for the water to recede. That's when volunteers and a tree trimming company arrived and started clearing paths and habitats.
MORE: Deputies rescue dog stranded on RV roof in flooded DeSoto County community
Ragan said there's still plenty of debris to be cleaned up, but she's grateful that everyone – human and ape – came through one of the most powerful hurricanes to ever hit Florida, unscathed. 
"The habitats stayed strong. The night houses stayed strong and everyone stayed safe. And isn't that all that matters?" said Ragan.
The Center for Great Apes – How it started
This was the center's fifth hurricane in nearly 30 years. Ragan founded it when she went looking for a sanctuary for a young orangutan she was caring for – she couldn't find one. 
The Center for Great Apes is the only sanctuary for orangutan's in this hemisphere, and the young ape who started it all is now 32 years old. 
"Pongo is really the founder of the Center for Great Apes," Ragan said. "We've rescued 86 great apes in 30 years from the exotic pet trade, from entertainment, circuses, small zoos, research. And if Pongo hadn't come into my life, this wouldn't exist at all."
The 27 orangutans and 42 chimpanzees at the sanctuary live in expansive habitats and night houses connected by nearly two miles of elevated tunnels that allow them to travel at liberty. The chimpanzees are social and liven groups.
The more solitary male orangutans have their own habitats, sometimes with family, like 18-year-old Archie. Used in Hollywood and elsewhere in entertainment, Archie lives with his sister, an older female and their now 2-year-old daughter Cahaya.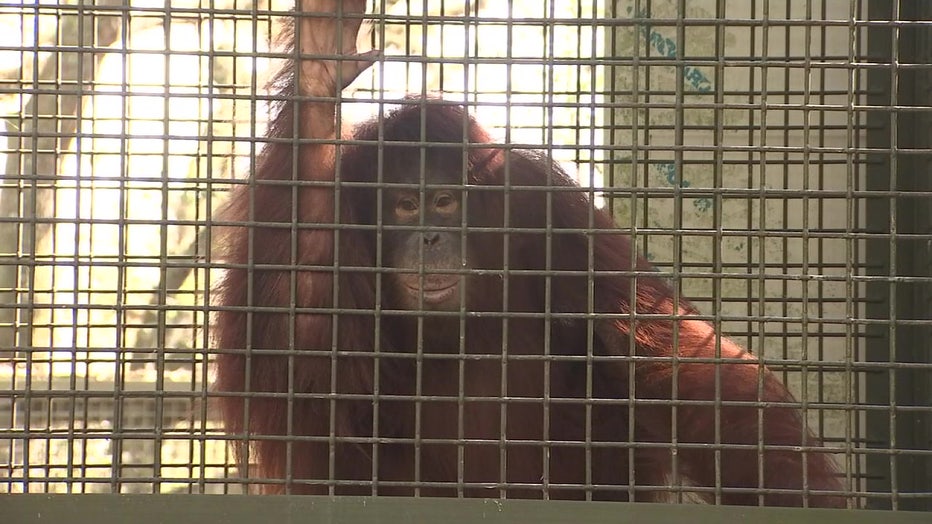 The sanctuary doesn't breed, but somehow Archie became a dad. 
"He is the surprise father. Even though we practice birth control...somehow it didn't work," Ragan said.
Ragan said the surprise arrival of Cahaya in February 2022 became a pandemic blessing for them when they had to close the sanctuary for nearly two years, and for her mother Sunshine. 
"This female, who is 40, had three babies taken from her to be hand raised, so she never got to raise a baby. Now in her maturity, she's finally getting to raise a baby," Ragan said.
Some of the apes are famous, such as 39-year-old Bubbles, who is Michael Jackson's former pet. The 51-year-old Popi is also famous for starring as Clyde the Orangutan's girlfriend in the sequel to Clint Eastwood's "Every Which Way But Loose."
Others come from exotic pet situations, living in basements, living rooms, small cages – some were even abused. 
Ragan said right now, the sanctuary is full, but they're building more habitats. With more funding, they'll be able to take in more of these endangered animals that need a home. 
You can find out more about the Center for Great Apes on their website centerforgreatapes.org.