World War II veteran paratrooper jumps out of plane to celebrate 98 birthday
GAINESVILLE, Fla. - On Saturday a World War II veteran had an afternoon he will never forget.
World War II Veteran Paratrooper Vince Speranza of the 101st Airborne made a tandem skydive with Art Shaffer at the age of 98. 
The pair jumped from the "Tico Belle," an aircraft that was used in the Normandy D-Day invasion. Speranza has made other tandem skydives for recent commemorative events around the world. 
READ: Black Vietnam veteran receives Medal of Honor after nearly 60-year wait
In his memoir "Nuts," Speranza tells his story of training as a Paratrooper and first seeing combat as a machine gunner in the "Battle of the Bulge." Speranza made training jumps in the final days of World War II in preparation for a possible airborne attack in the Pacific before Japan surrendered. He was also the featured speaker on Saturday with a fireworks show in honor of his slightly belated 98th birthday.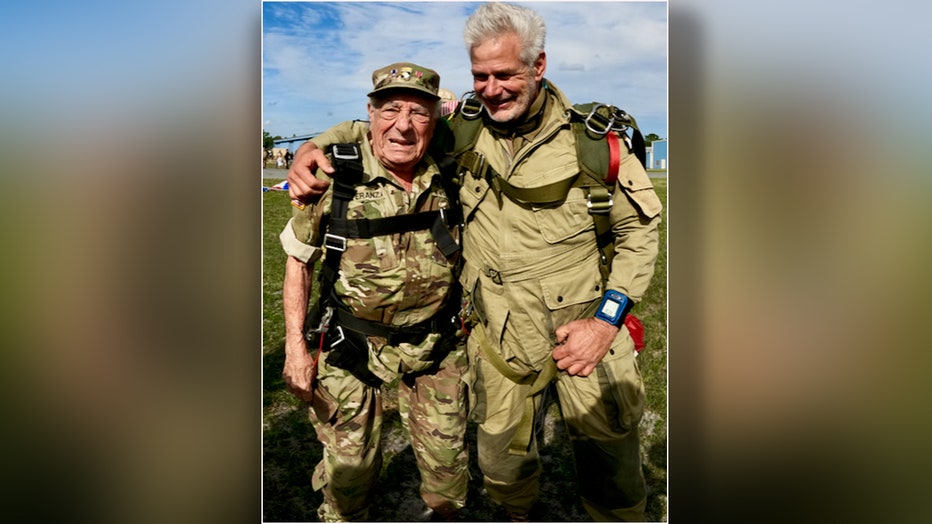 WWII vet skydives to celebrate 98 birthday. Image is courtesy of Round Canopy Parachuting Team.
Speranza was hosted by the Round Canopy Parachuting Team, a foundation which is dedicated to increasing awareness and educating the public about the sacrifices and heroism of Allied Paratroopers from World War II onward.
READ: Bay area 106-year-old veteran credits close bonds, healthy diet and sense of humor to long life
Earlier in the week over 150 parachutists came from all over the United States and Europe to take part in a six-day training event at Skydive Palatka to prepare for round canopy parachute jumps into Normandy, France this summer for the 79th anniversary of the D-Day invasion of World War II and air shows around the country later this year.