Yemen's Socotra Island hit by rare cyclone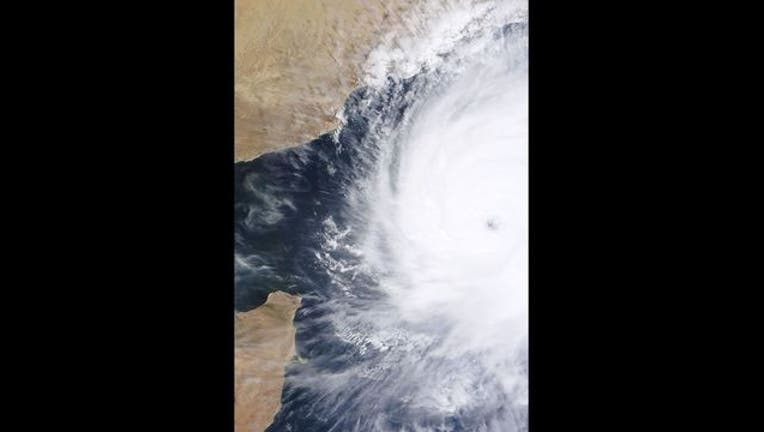 SANAA, Yemen (AP) — A rare and rapidly intensifying cyclone killed one person and injured nine Sunday on the remote Yemeni island of Socotra as it moved toward the Yemeni mainland, local security officials said.
The officials said Cyclone Chapala seriously damaged or destroyed at least 20 homes on the island, where trees have been uprooted and fishing boats sank.
They said many residents living near the coast are taking shelter in caves or in schools. The island is being hit by heavy rain and strong winds, and rising waves are battering the coast. The officials said coastal areas are flooded.
Authorities on the island have transported 9,000 people from their homes to other places to take refuge, mainly schools, said Socotra Deputy Governor Ramzi Mahfouz. But the evacuation was only carried out in the provincial capital, Hadibo, and residents elsewhere are facing more challenges. The situation is being compounded by a shortage of fuel on the island for more than 20 days, he said.
Mohammed Salmein, a resident of the island, said they haven't seen winds and rain like this in decades.
"We are expecting a true disaster to befall us," he said, "and only God knows whether we will last until tomorrow."
Socotra island lies in the Indian Ocean some 230 miles (368 kilometers) off the coast of Yemen's mainland. It is known for its unique vegetation and ecosystems, including rare dragon blood trees.
The U.N. weather agency said Friday that Cyclone Chapala could dump more than a year's worth of rainfall on the arid, impoverished and war-torn country.
The Global Disaster Alert and Coordination System forecasts the storm will make landfall in Yemen around midday Tuesday, following earlier estimates that it would hit on Monday. It said that up to 390,000 people could be affected by the wind speeds, and 3,500 people residing in coastal areas could be affected by storm surge.
In al-Mahra, Yemen's easternmost province, security officials said dark clouds are forming amid unusually strong winds, though no damage has been reported yet.
Neighboring province Hadramawt, which is partially controlled by al-Qaida, is also bracing for the storm. The Emergency Council in Hadramawt, which is supportive of exiled President Abed Rabbo Mansour Hadi, appealed to citizens living in coastal areas to evacuate their homes and move to high ground.
Mukalla, a city under al-Qaida control, is evacuating a coastal neighborhood which is one of the oldest in the city.
All officials spoke on condition of anonymity because they were not authorized to speak to journalists.