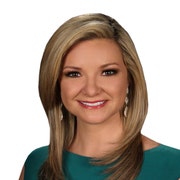 Laura Moody
Good Day anchor
Hi! My name is Laura Moody, and I'm the morning news anchor for Good Day Tampa Bay.  My co-anchor Russell Rhodes and I are on weekday mornings from 6 to 10 a.m.
I am a graduate of Florida State University and originally from Alabama. Before I came to WTVT, I was weekend morning and evening anchor for Nashville's ABC affiliate WKRN. I got my start just down the road in Sarasota, working for the New York Times-owned station SNN.
I love being part of the FOX 13 news team! We're a family! People always tell us that they feel that way about us, and it's true. We feel that, too.
I started at WTVT in 2006 as weekend morning anchor with longtime FOX 13 favorite Bill Murphy.
In the years since, I've covered some incredible stories. The brave men and women at MacDill Air Force Base have taken me on some wild rides. The Special Operations Command's Parachute Team took me 12,000 feet up into the air for a skydiving adventure I will never forget. I was the first female civilian to skydive from a CV-22 Osprey. I have ridden along with the KC-135 Air Refueling Squadron and seen the beautiful Bay Area from a Blackhawk helicopter. Most recently, I had the honor of riding with the U.S. Air Force Thunderbirds, pushing 7Gs. I have a whole new respect for the fighter pilots who fight for and defend our country.
I love watching the Tampa Bay Lightning play. The Rays are big in our house, too! In 2008, I traveled up to snowy Philadelphia to cover the American League Championship Series and the run for the World Series. I stood there in three layers of clothing right to the bitter end.
Some of my favorite stories to cover are our Good Day Grads segments, where I share the stories of high school seniors about to graduate -- we talk about adversity, peer pressure, we profile standout performers and I really like to tell the stories of those who have fought the hardest to get their diplomas.
Kid Wit is maybe my favorite segment to do, though. It's sort of a play on what Art Linkletter used to do where we just sit down and talk with second- and third-graders about... whatever. You never know what you're going to get with kids, but it's guaranteed to be magic when the pieces all come together.
I also do a lot of work with the March of Dimes as co-chair of the March for Babies.
I love waking up and being part of your mornings. I hope to do it for a long time to come -- to be there every morning for the moments, big and small, that make us the wonderful community we are.
The latest from Laura Moody
From first responders answering seemingly endless calls for help at the height of the storm, to city officials working to repair roads and make them stronger for the future, the city of North Port has been through a lot since Hurricane Ian.
A Plant City mother wanted her son, Luca June, to experience the joy of pictures, and now it's a reality, with the help of a company out of Illinois that 3-D prints photos.
There is nothing more majestic than the crystal clear water of Rock Springs Run in the middle of Florida. The calm quiet approach to the river is a little deceiving, but the ride back is like a lazy river.
Seventeen-year-old Akari Isaac has a personality that beams with joy, with plenty of flair. And why not? She's about to graduate from Tampa Bay Tech, and she has a lot to look forward to. 
Caroline is the first student in Northeast High's automative program to become valedictorian. For her, the sky is the limit. Quite literally.
A Bay Area mother credits research and discoveries funded by the March of Dimes with saving the life of her premature baby. 
It's been a long road for Ashley Kersey and it's about to take an exciting turn as she graduates from Riverview High. Her four years including hospital visits and homework, but it didn't stop her from reaching her goals.
For parents of premature babies, it can be a very stressful and uncertain time. But they are finding comfort thanks to the March of Dimes.
There was a little bit of a baby boom on the Tampa Bay Buccaneers team.