Carr throws for 4 TDs, Raiders outlast Bucs 30-24 in OT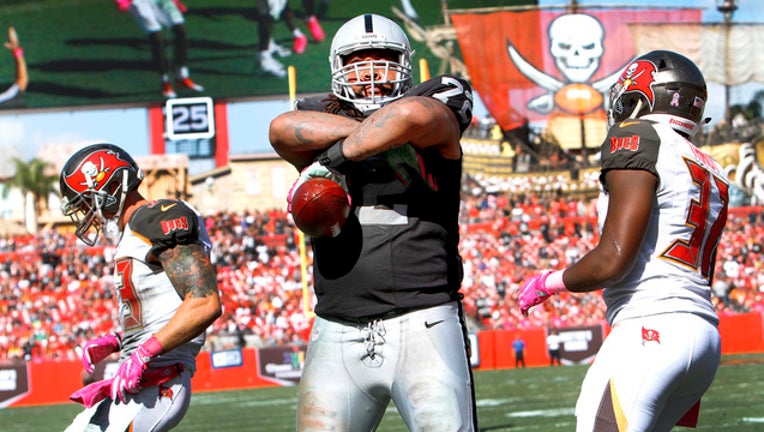 TAMPA (AP) - Derek Carr threw a 41-yard touchdown pass to Seth Roberts with 1:45 remaining in overtime, capping a record-breaking day for the Oakland Raiders in a 30-24 victory over the Tampa Bay Buccaneers on Sunday.
Carr threw for a franchise-record 513 yards -- completing 40 of 59 passes without an interception -- and the Raiders overcame an NFL-record 23 penalties for 200 yards.

Carr also threw touchdowns to offensive tackle and ex-Buc Donald Penn, Amari Cooper and Mychal Rivera as the Raiders (6-2) improved to 5-0 on the road.

Jameis Winston threw for 180 yards and two touchdowns for the Bucs (3-4), who took a 24-17 lead on a 1-yard run by Jacquizz Rodgers and two-point conversion.

Carr threw his TD pass to Rivera to tie it with 1:38 remaining in regulation, and Sebastian Janikowski missed a 50-yard field goal as time expired to send it into overtime.

Janikowski misfired again from 52 yards on Oakland's first possession of the extra period. On the winning play, Carr hit Roberts into the middle of the field on fourth-and-4, Tampa Bay defenders lunged and missed the tackle at the 30, and the receiver sped into the end zone.

The Raiders are 5-0 on the road for the first time since 1977. Tampa Bay fell to 0-3 at home.

FILLING IN: With RB Doug Martin still sidelined by a hamstring injury, Jacquizz Rodgers made his third start for Tampa Bay and rushed for 69 yards on 19 carries against the league's 32nd-ranked defense. Rodgers topped 100 yards each of the previous two games , keying victories over Carolina and San Francisco. Martin, the league's second-leading rusher a year ago, has been out since getting hurt at Arizona Week Two. 

FLAGS, FLAGS AND MORE FLAGS: The Raiders hurt themselves repeatedly with penalties, including a delay of game on first and goal from the Tampa Bay and an offensive pass interference call against WR Michael Crabtree that nullified a touchdown. They wound up settling for Sebastian Janikowski's 31-yard field goal that trimmed a second-quarter deficit to 10-3. Oakland was penalized four times, twice for lining up with 12 men on defense, during the fourth-quarter drive Winston used to put Tampa Bay up 24-17.

INJURIES: The Raiders lost CB Sean Smith with a shoulder injury on the second play of the game.

UP NEXT: The Raiders return home from their extended stay in Florida to face the Denver Broncos. The Bucs have a short week, continuing a three-game homestand against the Atlanta Falcons on Thursday night.