Did the Bucs draft the wrong QB?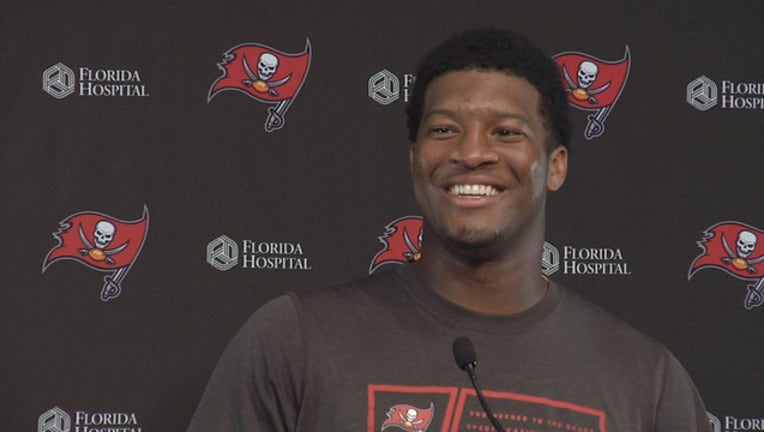 TAMPA (FOX 13) - Jameis Winston tried avoiding the comparisons with Marcus Mariota, but he couldn't on Sunday. Mariota finished the game with a perfect quarterback rating (158.3) and became the first rookie to throw four touchdowns in a debut in just two quarters of play.
"You know he [Marcus Mariota] played an amazing game," said Jameis Winston. "He's a great quarterback, but as a Tampa Bay Buccaneer we have to find a way to go out there and get better."
Winston's intro to the NFL couldn't have gone any worse. His very first pass attempt went for a touchdown to the wrong team. He's the first rookie to do that since Brett Favre in 1991. It put his team in a 14-nothing hole.
"Jameis didn't play well," said Lovie Smith. "I mean, that's what he'll tell you. You know, that early turnover hurt us."
"Obviously, we can't give our fans that on the home opener," said Winston. "I can't perform like that on the home opener, but we will get better. I will perform better and at the end of the day it's about us and the fans are a part of us so just stay with us, stay with us."
Mariota had plenty of time to pass. Only three of his attempts hit the ground. Winston found his himself under pressure the entire game. He was sacked 4 times and intercepted twice. It's a disastrous debut that raises the question: did the Bucs draft the wrong quarterback?
"Well when somebody plays as great as he [Marcus Mariota] did, of course you are going to say that," said Winston.
"Let's not overreact to a bad performance," said Lovie Smith. "We're going to feel bad about this one and give them all their due credit. But it's no more than that. We have the guy that's perfect for us going forward."
This is the second time Winston has lost badly to a Marcus Mariota team in the last 9 months, two defeats by a combined 67-points. During most of his college career Winston has been on the other end of scores like this, so how does he plan on dealing this game?
"This is just one game, I always can bounce back," said Winston. "This is not the end of the world, but we have to get better, we have to keep improving - that's the main thing. Obviously, the first game is the game that you see how you were in the preseason, what type of team are you, and we were not that type of team. But I believe if I didn't throw that pick we would of showed a different thing."
"You know, Jameis is probably going to bounce back from this and I'm sure he will be ready for next week," said Marcus Mariota."