Everyone to blame in Bucs' loss to Texans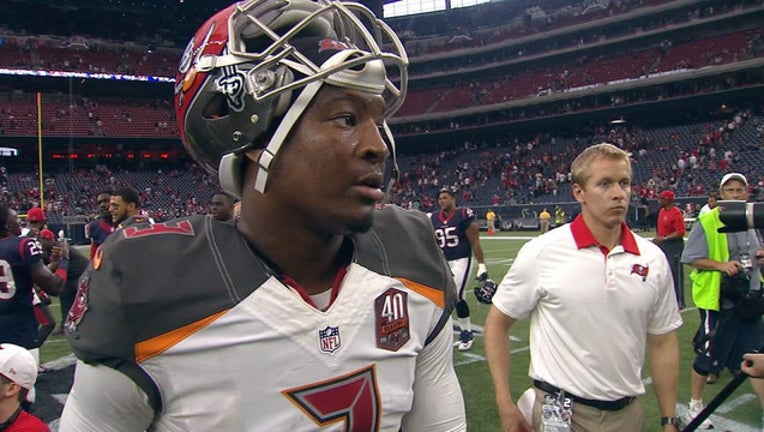 HOUSTON (FOX 13) - Bucs quarterback Jameis Winston knows his team didn't play to their full potential. That's why he said not all was lost in their 19-9 loss Sunday against the Texans.
"I feel like this was a promising loss," said Winston. "It's ironic, but it was promising."
"It's a thin line between winning and losing. I have to meet the quota, you know, I have to produce on third downs, that's the most important thing. I have to make completions on third downs."
Those conversions were hard to come by Sunday. The Bucs finished one for 12 on third downs. But Winston's teammates say all the blame can't be put on their rookie quarterback.
"Starting with me," said wide receiver Mike Evans. "It's essentially my first game back. You know, I made some plays, but I put this on me. (There were) a lot of plays I should have made on third downs that I didn't come up with. Offense played great, you know, it was up to me."
One of the biggest concerns following Sunday's loss was missed opportunities. Not just offensively, but on the defensive side of the ball, too. The defense didn't come up with enough takeaways to put the ball back in the offense's hands.
"That's our goal and objective every game regardless if (it's) the fourth quarter or the first quarter; we need to take the ball away," said defensive tackle Clinton McDonald. "We need to be the offense when we're out there on defense and try to score."
The lone takeaway was a Kwon Alexander interception that turned into the Bucs' only touchdown of the game.
The Tampa Bay defense also failed to stop the run. For a Texans team that only rushed a 159 yards its first two games, the Bucs allowed them to beat that, finishing with 186 yards total.
"We missed a lot of tackles out there on the field, me included," said McDonald. "I missed a lot of tackles. I wasn't in my gap a couple of times. When you're not in your gap, you miss tackles, that's what happens. You can get 100 yards ran up on you."
"We're not set up for teams to run the ball like that against us," said head coach Lovie Smith. "So, that had much to do with this loss as anything."
There's a lot of blame to go around as the Bucs fall to 1-2 on the year, but nobody is pointing the finger at anybody else.
Next up, the Bucs host division rival Carolina. The Panthers come to Raymond James Stadium with a perfect 3-0 record. The Bucs will look to move to 2-0 in NFC South play.