Johnson rallies Lightning in 3rd for 5-2 win over Blackhawks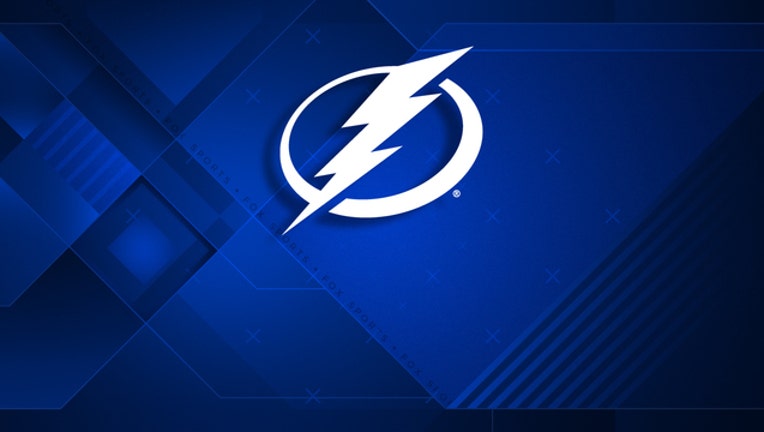 CHICAGO (AP) - In the third period, Tyler Johnson and the Tampa Bay Lightning looked more like the slick-skating group that dashed to the 2015 Stanley Cup final than a team that's been languishing near the bottom of the Eastern Conference standings this season.
Johnson scored two goals 30 seconds apart early in the third, leading Tampa Bay past the Chicago Blackhawks 5-2 on Tuesday night to end a three-game slide.
Brian Boyle had a goal and an assist, and Nikita Nesterov and Nikita Kucherov also scored for the Lightning, who broke loose for three goals in a 3:57 span to erase a 2-1 deficit. Alex Killorn set up both of Johnson's goals, and Valtteri Filppula had two assists to help Tampa Bay win for just the third time in 11 games.
The Lightning have been battered by injuries this season, including a critical one to sniper Steven Stamkos, who hasn't skated since sustaining a meniscal tear to his right knee in mid-November. But they rallied impressively against the Blackhawks, who beat Tampa Bay in six games for the 2015 NHL championship.
"It's big for us," Johnson said. "Every point matters right now, so we needed to get that in the third period.
"It's nice being back here and realizing we were two wins away from a Stanley Cup," he added. "Pretty much the exact same team. We know what we can do. It's a matter of doing it."
Killorn said the Lightning "had a chat" about the 2015 final on Tuesday morning at United Center - and that might have made a difference.
"We have a lot of guys in this room that can play, a team that can do some special things," he said. "Once we were reminded of that, we played a lot better tonight."
Jonathan Toews had a goal and an assist, and Duncan Keith also scored for the Blackhawks, who had their three-game winning streak stopped. Chicago lost for only the third time in its last 10.
Tampa Bay's Andrei Vasilevskiy made 34 saves, getting the start and delivering a strong performance after he relieved Ben Bishop for the third period of the Lightning's 5-3 loss at Arizona on Sunday.
"Their goalie was excellent tonight," Chicago coach Joel Quenneville said. "I think we've only generated as much offense in one or two games as we did tonight."
Corey Crawford blocked 31 shots for the Blackhawks.
After Nesterov tied it 2-all off a faceoff 2:47 into the third, Johnson put Tampa Bay ahead for the first time at 6:14. He beat Crawford with a rising shot from the right circle after taking Killorn's feed.
Johnson made it 4-2 at 6:44 from the edge of the crease with his 15th goal after Killorn's pass from behind the net. Killorn had fired wide, then retrieved the puck and dished in front.
"We just kept on going," Johnson said. "Wanted to use our speed, wanted to use our transition."
Kucherov added an empty-netter - his team-leading 18th goal - with 2:05 left.
Toews stayed hot after getting the game-winning goal and three assists Sunday in a 4-2 victory over Vancouver. In his previous six games, the Blackhawks' captain had just two assists.
Toews' effort in this one was overshadowed by the Lightning's late burst.
"You can expect a team like that to come at us the way they did in the third," Toews said, "but I think our answer just wasn't there."
Sharp goaltending at both ends limited the score to 1-1 after a freewheeling first period filled with chances.
Toews opened the scoring at 10:23, completing a cross-ice give-and-go with Richard Panik. Toews got to the edge of the crease and tipped in Panik's feed after slipping behind Lightning star defenseman Victor Hedman.
Boyle tied it with 1:25 left in the period after taking Filppula's long feed and plowing between Chicago's top defensive pairing of Keith and Niklas Hjalmarsson. Boyle broke in, faked Crawford to the ice and then slid the puck past him with a forehand move.
Keith put Chicago ahead 2-1 at 1:26 of the second on a shot from the left point that glanced in off Vasilevskiy's glove.
NOTES: Tampa Bay RW J.T. Brown returned after missing seven games with an upper-body injury. ... Lightning D Jason Garrison sat out his second game with an illness. ... The Blackhawks activated C Marcus Kruger (hand) from injured reserve, but he didn't play. Kruger was injured on Dec. 30 at Carolina. ... Chicago C Dennis Rasmussen played despite missing the morning skate with an illness. ... Blackhawks D Michal Kempny was back in the lineup after being benched in the third period on Sunday.
UP NEXT
Lightning: Conclude their six-game road trip at Florida on Thursday night.
Blackhawks: Host the Winnipeg Jets on Thursday night.