Martin St. Louis announces retirement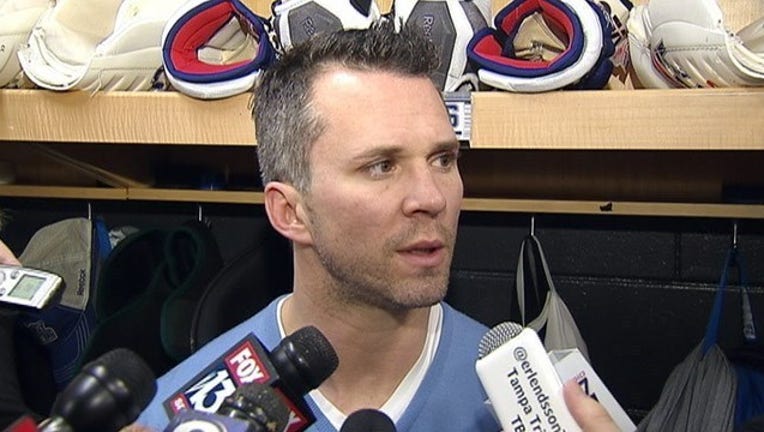 article
Martin St. Louis is retiring after 16 NHL seasons, seven All Star selections and one Stanley Cup with the Tampa Bay Lightning.
St. Louis made the announcement Thursday, roughly a month after helping the New York Rangers reach the Eastern Conference finals, where they lost to the Lightning in seven games. He had 21 goals and 31 assists this past regular season, but had one goal and six assists in 19 playoffs games.
The 40-year-old St. Louis was uncertain whether he would return for another season after the Rangers were eliminated, but it was clear that New York was not going to bring the hard-working 5-foot-8 veteran back.
St. Louis had 391 goals and 642 assists in 1,134 regular-season games with the Calgary Flames, Lightning and Rangers. He won the Stanley Cup with the Lightning in 2004 and the Art Ross Trophy twice (1994, 2013) as the league's top scorer.
He also won the Hart Memorial Trophy as the NHL's Most Valuable Player, and the Lester B. Pearson Award as the NHL players association's Most Outstanding Player in 1994.
"I have had the good fortune of working with some incredible players and trainers throughout my career who I am grateful to also call good friends," St. Louis said in a statement.
"I am also thankful to all of the fans who have supported me through the years; it has meant so much to me. I have dedicated my life to being the best player I could be and now want to turn more of my focus to my three boys. I look forward to this next chapter of my life and the time I will have with my family."
The retirement comes a year after St. Louis helped the Rangers reach the Stanley Cup finals against the Kings. It was a heart-warming and gutsy journey.
Trailing the Pittsburgh 3-1 in the Eastern Conference semifinals, St. Louis found out that his mother, France, died unexpectedly of a heart attack. He left the team before Game 5 to return to Canada and then came back to help overcome the deficit, scoring an emotional goal in Game 6 on Mother's Day.
New York beat Montreal in the conference finals, but could not overcome the Kings.
St. Louis started his NHL career as an undrafted free agent with the Flames in 1998.
He had 11 20-goal seasons, seven 30-goal seasons and totaled 80 or more points in six seasons, posting a career high 102 points in 2006-07. St. Louis played 80 or more games nine times, playing in all 82 regular-season games in seven of eight seasons from 2002-03 through 2010-11.
St. Louis also won three Lady Byng Memorial Trophies (2009-10, 2010-11, 2012-13) for his "sportsmanship and gentlemanly play combined with a high standard of playing ability." He led the league in assists in 2003-04 (56) and 2012-13 (43 in 48 games played).
A native of Quebec, St. Louis played college hockey for the University of Vermont, leading the Catamounts to the NCAA Frozen Four in 1996.
Internationally, St. Louis has played with Team Canada on several occasions. He was a member of the team that won the 2004 World Cup of Hockey and is a two-time silver medalist at the world championships. A two-time Olympian, St. Louis was a member of Canada's gold medal-winning team at the 2014 Sochi Games.