NHL-best Lightning beat Coyotes 4-1 for 6th straight win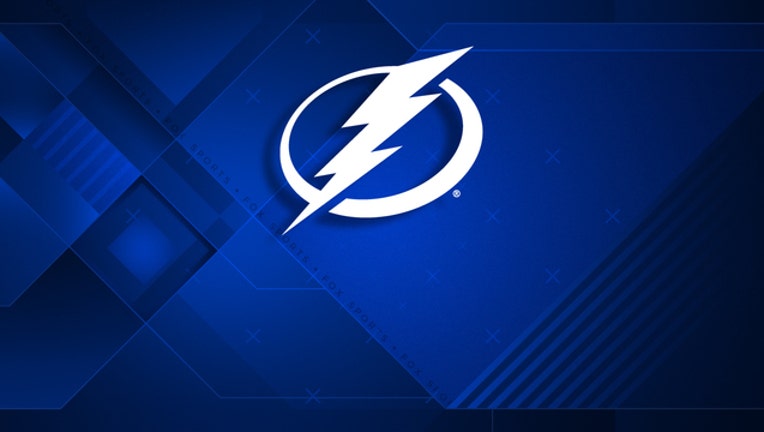 article
GLENDALE, Ariz. (AP) - The Tampa Bay Lightning made it easy to see why they lead the NHL standings - and why the Arizona Coyotes are at the bottom of the league.
Nikita Kucherov scored to remain tied for the NHL goals lead and the Lightning beat the Coyotes 4-1 on Thursday night for their season-high sixth straight victory.
"Full team effort tonight," Lightning defenseman Victor Hedman said. "It's a team game. We have great chemistry."
Kucherov matched Washington's Alex Ovechkin with his 22nd goal to help the Lightning send the last-place Coyotes to their fifth straight loss.
"We just looked tired," Coyotes coach Rick Tocchet said. "We weren't sharp at all, we were dull. We did a lot of, I hate using the word dumb, but we did some dumb things out there because we looked tired."
Vladislav Namestnikov, Brayden Point and Tyler Johnson also scored for Tampa Bay, and Andrei Vasilevskiy made 32 saves for his NHL-best 21st victory. Coming off a 3-0 victory in St. Louis on Tuesday night in a matchup of the NHL's top teams, the Lightning are 22-6-2 for 48 points - 29 more than the Coyotes (7-22-5).
Clayton Keller scored his team-leading 12th of the season for Arizona to end a 17-game drought
"I'm not really focused on my performance," Keller said. "It's a team game and we lost tonight."
Antti Raanta made a season-high 42 saves.
"If it wasn't for Raanta, it could've been 7-1 or 8-1," Coyotes captain Oliver Ekman-Larsson said.
After playing an NHL-high 21 road games in the first 66 days of the season, Arizona opened a five-game home stand and will play eight of its next 10 at Gila River Arena.
"I don't know if it was the road trip or a bunch of stuff we've been doing," Tocchet said. "I don't know what it is but some guys just kind of gave in. They are a hell of a hockey team. At the beginning, they were just kind of moseying into the game and we didn't sense that and say, 'Hey, let's jump on it.' That is what is disappointing."
Namestnikov and Point scored in a 41-second span midway through the first period. Namestnikov jammed in a rebound off Steven Stamkos' power-play shot after Coyotes defenseman Alex Goligoski was sent off for slashing following a long stretch in the Arizona end.
"We had the puck three times and we were soft, very, very soft," Tocchet said. "I hate soft plays, I hate soft players and we were soft."
On Tampa Bay's next rush, Point deked Raanta and slipped a backhander between the goalie's leg pads to run his goals streak to five games. Point also had an assist and fought Brad Richardson for a Gordie Howe hat trick.
"Going into the game if someone was getting the Gordon Howe hat trick I wasn't going to pick Brayden Point as the guy," coach Jon Cooper said. "But you can't take the fight out of the competitors and that's what he is,"
Kucherov made it 3-0 on a shot through traffic at 6:11 of the second, and Keller connected on a power play with 8:31 to go in the period. Johnson scored at 31 seconds of the third, firing a wrist shot over Raanta's shoulder.
BOLT FROM PAST
Tocchet faced Tampa Bay for the first time as a head coach. He was 53-69-26 in 148 games behind the Lightning bench from 2008 to 2010.
"That was a long time ago," Tocchet said.
Tocchet took over as Tampa Bay's interim coach after Barry Melrose was fired in November 2008, got the full-time job and remained through the 2009-10 season. Tocchet spent the last three seasons as an assistant with Pittsburgh, helping the Penguins win the Stanley Cup the last two years.
NOTES: Lightning F Ryan Callahan left in the third period with an upper-body injury. "This one might be longer than day-to-day," Cooper said. ... Arizona acquired F Ryan Kujawinski from New Jersey for F Michael Latta. ...Tennessee Titans players attended the game. Coming off a loss to Arizona on Sunday, the NFL team is practicing at Arizona State in preparation of its game Sunday at San Francisco.
UP NEXT
Lightning: At Colorado on Saturday night.
Coyotes: Host Pittsburgh on Saturday night.
___
For more NHL coverage: https://apnews.com/tag/NHLhockey