Same mistakes haunted Bucs against Colts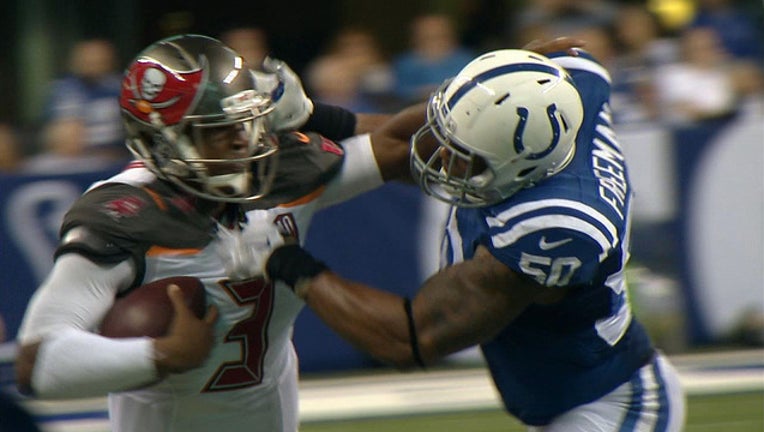 TAMPA (FOX 13) - Mistakes cost the Buccaneers their game Sunday against the Colts.  It's the same mistakes -- correctable ones -- we've seen from the Bucs earlier this season.
Because of it, their win streak is no more.
"It feels bad," said wide receiver Mike Evans. "But if we keep beating ourselves like that, I mean, we can't expect to win."
Evans' third-down drop in the third quarter could have put the Bucs ahead late in the game.  Instead, that drive ended in a failed 54-yard field goal attempt -- and no points on the board.
"We still have to fix things," said quarterback Jameis Winston. "You know, we're not perfect. No one's perfect. We have to overcome adversity, we have to put this one behind us and move forward."
Perfection isn't what the Bucs are going after, but they have to play smarter.
Penalties have plagued this team all season long. They committed 12, racking up 95 yards in penalties, third-most this season.
"We have to cut down on the penalties," Winston conceded. "But, you know, penalties don't really affect us. We have to execute, that's the main thing."
For the first time this season, the Bucs failed to come up with a takeaway.
Lovie Smith has always preached that turnovers can be game changers, and Sunday the Bucs didn't create that opportunity for themselves.
"The way you shift momentum is taking the ball away," said Smith. "Again, you just can't win on how this game played out. We need to do more."
Despite the loss, the Bucs have all their goals still in front of them. They are alive and well in the playoff picture, but it got smaller with their loss in Indianapolis.
"There's no room for error now, you can say, with six losses," said Smith. "We're going to come back against Atlanta next week and it's going to be a distant memory for us."
Sunday, the Bucs host the Falcons at 1. That game will be broadcast on FOX 13.
The Bucs defeated Atlanta in an overtime win during Week 8 of the season.