Seferian-Jenkins' shoulder tested in Falcons game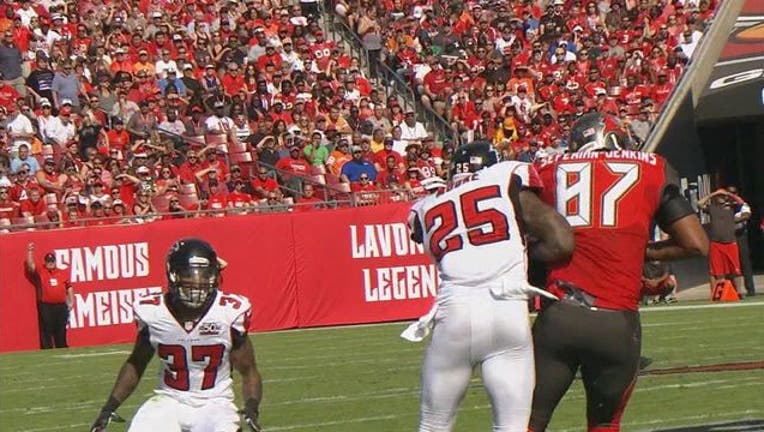 article
TAMPA (FOX 13) - Austin Seferian-Jenkins wasn't in the game long before his shoulder was tested Sunday against the Falcons.
"It felt good to get hit and it felt good to get back up, but at the end of the day, William Moore packs a pretty powerful punch. So yeah, it was a little sore."
That hit was the tell-tale sign that Seferian-Jenkins was back for the Buccaneers.
"He ate it too!" exclaimed quarterback Jameis Winston. "William Moore put it on him, but he ate it, got back up like 'Let's go!' You know, so he was excited."
"I was a little nervous when he kind of popped up," said offensive coordinator Dirk Koetter. "He hung in there, he played 20-something plays and I'm sure that number will continue to grow from here on."
Coaches are easing Seferian-Jenkins back into game action after suffering a shoulder injury early in the season.
He was targeted six times and he made three receptions for 31 yards against the Falcons.
Between weeks one and two, Seferian-Jenkins was Jameis Winston's top target. He totaled over 130 yards and scored two touchdowns.
"The first two weeks were big for Austin," said Winston.
But, that same sort of impact won't be felt immediately in his return.
"Austin was a little bit rusty, you know, he looked like a guy that hadn't played in nine weeks," said Koetter. "Practice is practice, and game speed in the NFL is game speed."
Seferian-Jenkins had been practicing for weeks before he was finally cleared for contact last week.
Though he wasn't physically able to contribute from weeks three through 12, he was always checked in.
"No one stayed into the game plan as much as he did," said Bucs head coach Lovie Smith. "Each day in practice, having a script, getting a mental rep. So, I think he did about all you can do being an injured player for him to come back."
And nobody wanted to see Seferian-Jenkins back out there more than himself.
"I just hate seeing everyone, if we ever lose, like I'm not out there, I feel like I could help. And then when we win, I want to be there in the huddle when we're doing the victory or when we're making that final drive."
Count him in, because he's back and ready to help the Bucs in their playoff push.