University of Central Florida announces new head football coach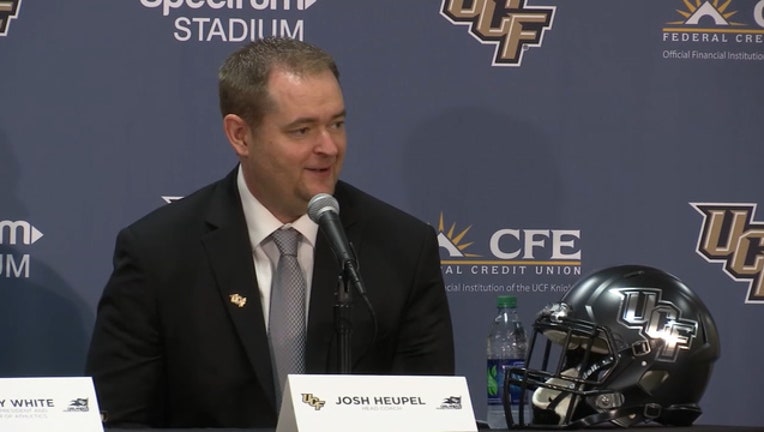 article
ORLANDO, Fla. (FOX 35 WOFL) - The University of Central Florida has announced that the Missouri offensive coordinator, Josh Heupel, will be the new UCF Football coach.
Heupel was announced as the 11th head coach in the history of UCF Football on Tuesday morning by UCF Vice President and Director of Athletics Dr. Daniel J. White.
White said that he is "thrilled to welcome Josh and his family to UCF. I believe we've identified one of the brightest offensive minds in college football. His offensive system is very similar to what we've been running. I know he's going to utilize all the great talent on our roster and continue to add to it."
He also went on to say that "He's no stranger to success, winning a national championship as a quarterback and leading a number of extremely high-powered offensive teams. Coach Heupel is in coaching for the right reasons. He cares about his student-athletes and that's one of the most important attributes I look for in a coach."
The UCF President also commented on the announcement, saying that "Josh believes in recruiting and developing well-rounded student-athletes. That's a perfect fit with UCF, the No. 1 public university in the nation for student-athlete academic success. Josh is an outstanding leader, competitor and winner. Looking at what his Missouri offense did this season, I can't wait to see the scoreboard light up at Spectrum Stadium."
Finally, new Head Coach Josh Heupel commented on his new position, saying that "I'm extremely excited about the opportunity to represent UCF. What makes this opportunity so unique is the vision of the leadership from President John Hitt, Provost Dale Whitaker and Director of Athletics Danny White. Their vision for this becoming one of the premier programs in the country makes this an exciting opportunity. That vision, the amazing campus, along with the recruiting base not only allows you to have immediate success but sustained success. I'm very excited to get a staff together and get to work with our wonderful student-athletes."
Heupel went on to announce that Randy Shannon would join the Knights' staff as the team defensive coordinator. Shannon comes to Orlando following three seasons at the University of Florida as Gators' defensive coordinator and most recently interim head coach.
"Randy is someone who I have always had a great deal of respect for throughout the years," Heupel said. "Seeing what he's been able to do with defenses, in addition to his ability to recruit this state, it's extremely special and will be invaluable to our staff."
Randy was also head coach at Miami from 2007- 2010. Before that, he was the Hurricanes' defensive coordinator for six seasons from 2001- 2006. 
With the University of Florida, Shannon's defense ranked fifth in the nation in total defense in 2016. His squad was also the second best pass defense in the country.