Gun owners may want concealed carry permit, despite Florida's new permitless carry rule
TAMPA, Fla. - A big change is coming to Florida gun laws. Starting July 1, it will be legal to carry a concealed weapon without a permit.
But Wilton Simpson, the state's new commissioner of agriculture, is still encouraging Floridians to get one, for a few reasons.
"There are several advantages to having your concealed carry card," he said.
The first reason, he says, is that 37 states allow holders of Florida's conceal carry cards to carry concealed in their state.
READ: How regulations will change with Florida's new permitless carry law taking effect in July
Nearly three million Floridians over 21 have active licenses earned by completing a safety training course, and meeting a host of other eligibility requirements.
Those requirements, like not being a felon, still apply.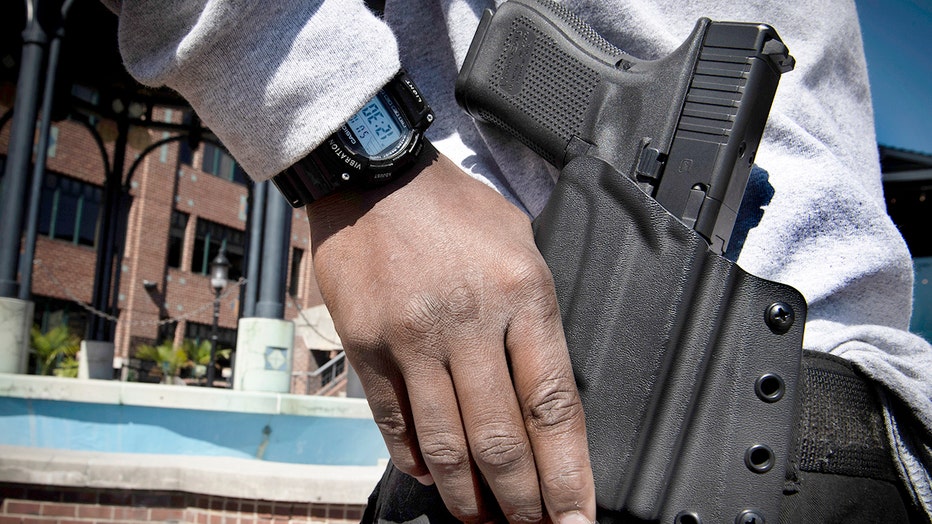 Man wearing his pistol in Alexandria, VA. (Photo by Bill OLeary/The Washington Post via Getty Images)
"The current concealed carry licensing program will remain exactly the same," Simpson stated.
He says since the governor signed the bill April 3, they have not seen a drop in license applications.
RELATED: DeSantis' signature tips US into majority 'constitutional carry' nation with new Florida gun rights law
The governor calls it, "constitutional carry," while critics say it's a removal of a key safeguard.
"Asking for a permit is not too far. It is not. I'm not asking that we ban them. I'm just asking for some simple training," said State Rep. Rita Harris (D-Orlando).
Commissioner Simpson argues the vast majority who carry concealed will still get that training, and will want the benefits of not needing to wait for a three-day background check.
"I think that from time to time, you may have a criminal element that will try to fall back and say, oh, I was concealed carrying with my constitutional rights. And of course, all the same rules apply to people today that applied yesterday before the bill was passed," Simpson explained.
READ: Commissioners look to turn Manatee County into 'Second Amendment sanctuary'
But the third and biggest reason Floridians will still want to get concealed carry permits, he expects, will be to identify themselves to law enforcement if gun is used for defensive purposes.
"When the law enforcement gets there, they don't know who the good guys are just by looking," Simpson said. "So if you don't have a concealed carry card, then how would they know you're the good guy and the guy on the ground is not the good guy?"
A final determination on that, as always, will be via police investigation.
Floridians still need to meet the state's eligibility requirements, which can be found here. 
Click here to see a list of states that recognize Florida's concealed carry permits. 
See Florida's concealed carry statistics here.