Alligator snapping turtle 'Mac' dies suddenly at Sunken Gardens
ST. PETERSBURG, Fla. - A longtime resident at Sunken Gardens in St. Pete has died unexpectedly, the city said.
Mac, an alligator snapping turtle, died suddenly on Monday, according to Sunken Gardens Supervisor Dwayne Biggs.
"Mac showed no signs of injury, illness or distress prior to his death," Biggs said. "The Sunken Gardens family, and especially the animal care team members, are deeply shocked and saddened by this unexpected loss."
The official cause of Mac's death will not be known until after a necropsy is completed, which is being conducted by the Gardens' veterinary team. Results will be available in the comings weeks.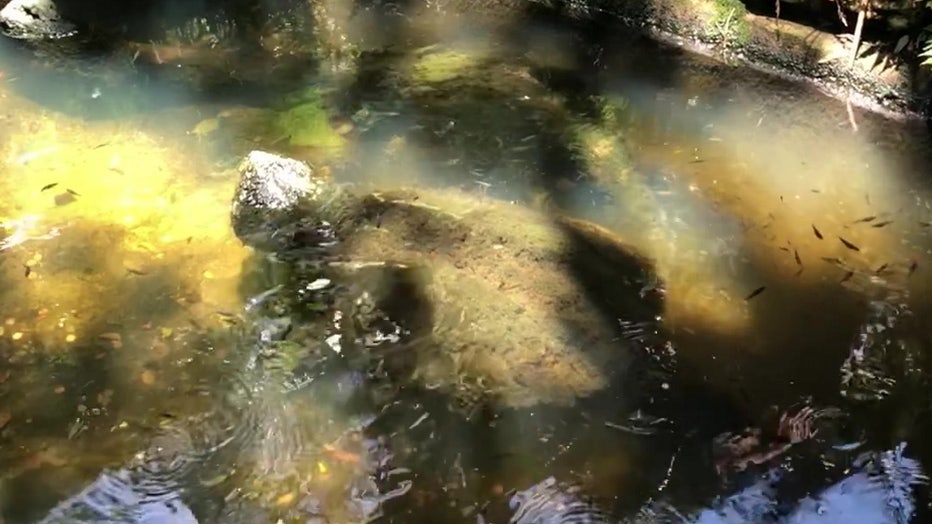 Mac, Sunken Gardens' alligator snapping turtle (Photo courtesy: Sunken Gardens)
The turtle's exact age is unknown, but Biggs said Mac was over 50 years old. He reportedly arrived at Sunken Gardens sometime in the 1960s, and was known by guests as the giant turtle in his exhibit, which was located near one of the most attractive areas in the gardens.
Mac was also recently featured in a children's book, "Sophia and Zack at Sunken Gardens," by Robin Robson Gonzalez and funded by the Sunken Gardens Forever Foundation.
"Mac was an important part of Sunken Gardens and a special turtle," Biggs said. "We share the heartbreak with the animal care team who knew him best, as well as our admiration for their outstanding commitment to Mac and to all the animals in our care."