Black bear spotted twice in Pinellas County has yet to be caught; recent sighting closes Phillipe Park
SAFETY HARBOR, Fla. - Florida Fish and Wildlife officials are tracking a black bear that's been spotted multiple times in Pinellas County and forced them to shut down a popular Safety Harbor park Tuesday.
Philippe Park closed after a black bear was seen early Tuesday morning at the park, according to FWC. Experts believe this is the same animal that has been spotted in Hernando and Pasco counties, Oldsmar, and most recently in Clearwater over the weekend.
"I tell you, I'm not going in there," said Jerry Seipp, who regularly visits the park. "I'm not going to trespass and look for it, but I'm trying to figure out where it would come from."
Clearwater police released home surveillance video of the bear near Curlew Road and Countryside Boulevard on Saturday. They said it made its way south near the Countryside Recreation Center and Misty Springs condos.
By the time officers arrived, however, they couldn't find it.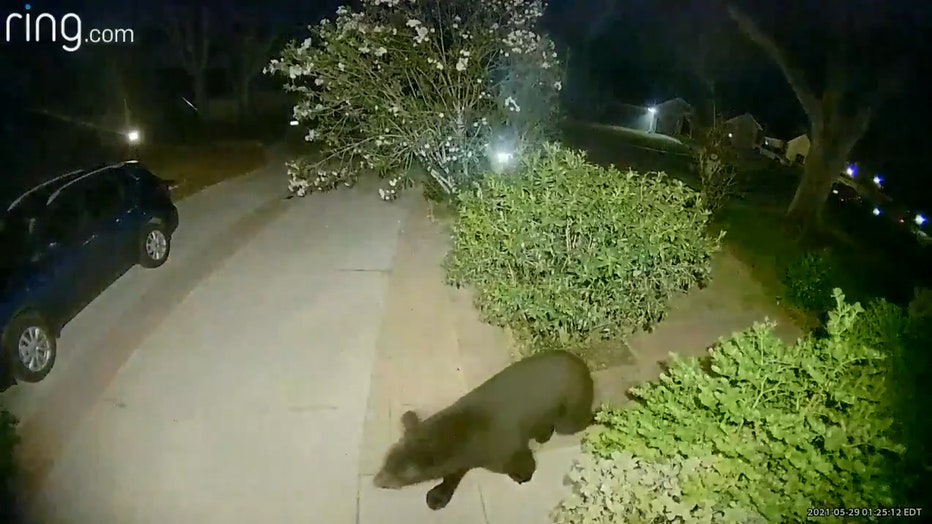 Clearwater police say the bear was spotted near Countryside Boulevard and Curlew Road on Saturday, but was gone by the time officers arrived. They say it's the same one seen in Phillippe Park on Tuesday morning. (Ring video footage provided by Clearw
"It's crazy to think that there's a bear just two minutes down the road from me. Me and family, we actually drive 12 hours to Tennessee to look at bears and it's just down the road from us," said Mark Farid of Safety Harbor.
FWC believes the bear is likely a juvenile, roughly 18 months old and 150 pounds. Experts said bears this age are often on their own for the first time and are migrating in search of a new habitat.
The agency was not planning to try to trap because, according to FWC experts, bears can travel miles in a day, making it difficult and stressful on the animal.