Chef Gordon Ramsay cooks up unique Florida dish: Burmese python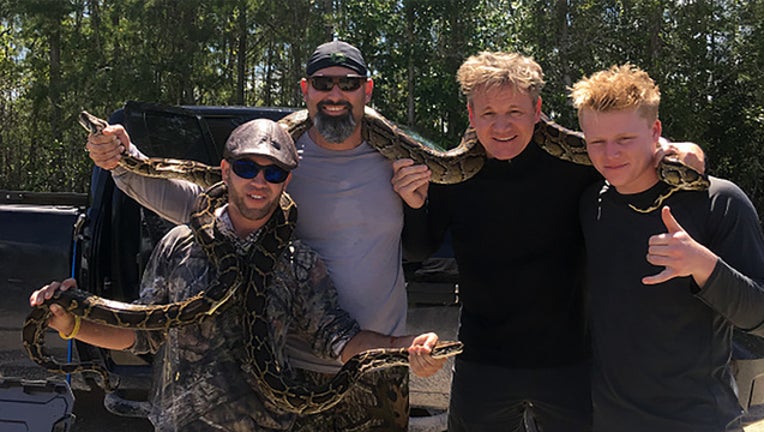 MIAMI - Celebrity chef Gordon Ramsay cooked up a unique dish while filming in Florida: Burmese python.
Ramsay joined Kyle Penniston of Miami on July 15 to hunt invasive pythons in the Everglades for an upcoming episode of his competitive-cooking television variety show "The F Word with Gordon Ramsay" on FOX.
Penniston hunts pythons for the South Florida Water Management District, the state agency that oversees Everglades restoration. Researchers say pythons are decimating populations of native mammals that live in the vast wetlands.
According to a statement Tuesday from the district, Ramsay and his son, Jack, helped Penniston kill three pythons in western Miami-Dade County. That brought the total number of invasive pythons eliminated by the program to 317 snakes in four months.
The district says Ramsay cooked one python alongside a levee in a portable oven. Penniston said it was an honor to have his first taste of python cooked by Ramsay.
"It was a blast hunting with the Ramsays and they were very respectful of what we are doing here in the Everglades, fighting these invasive predators to save the ecosystem," said Penniston.
"The F Word" airs Wednesday nights at 9 on FOX.
Information from the Associated Press was used in this report.