Citizen review board praises IA investigation, questions decision not to prosecute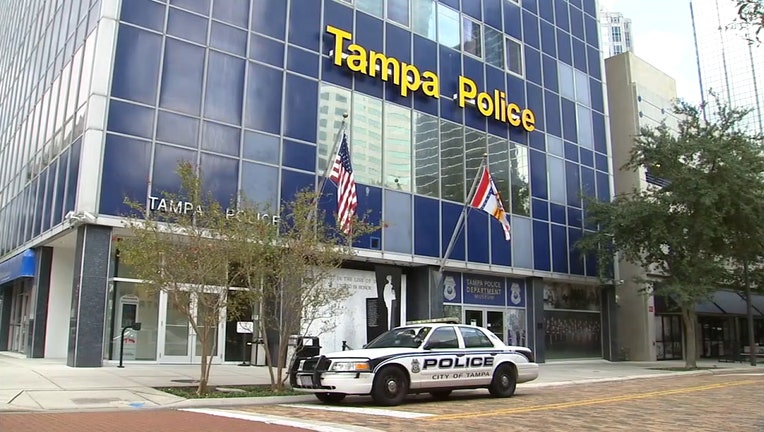 TAMPA, Fla. - Members of the Tampa citizen review board praised the work of the Tampa Police Department's internal affairs department while simultaneously questioning the State Attorney's Office decision not to prosecute a former officer.
The case involved TPD officer Todd Magyarosi, who resigned earlier in the year after allegedly admitting to distributing a controlled substance to an acquaintance while on duty, amongst other allegations.
"I just want to say this definitely an isolated incident. This is an anomaly. I mean, I've never come across anything like this. I was shocked just as much as you guys were," explained Jason Degagne, the internal affairs detective assigned to the case.
According to a TPD internal affairs report, deputies with the Hillsborough Sheriff's Office arrested Michele Lipinksi, an acquaintance of Magyarosi, for allegedly transporting methamphetamine and heroin into the Hillsborough County Jail and giving it to an inmate in April. While investigating, they say, 1,500 pages of text messages were found on Lipinksi's phone from a contact listed as "Todd (TPD)." The number in her phone matched the number for Officer Magyarosi on file with the Tampa Police Department.
Detectives found no evidence linking Magyarosi with any of the drugs being taken into the jail, but say they did find evidence he was potentially supplying Lipinksi with prescription medication.  
A search of the text messages found the two referenced Adderall 32 times and appeared to show "Todd (TPD)" communicating the exchange and sale of Adderall with Lipinski. HCSO gave the texts to TPD's Internal Affairs Bureau, which began its own review of the evidence.  
When questioned, Lipinksi allegedly said she received Adderall from Magyarosi on several occasions and acknowledged having sex with him while on duty. Text messages between the two validated both her claims, according to the internal affairs report.
Magyarosi denied having sex while on duty but did admit to providing her with 10mg of Adderall on at least three separate occasions. He told investigators he was not sure of the legality of providing the drugs to the woman since she too had a legal prescription for the same medication.
TPD turned over the findings of the investigation to the State Attorney's Office for possible criminal charges. They decided not to move forward with prosecution.
Tuesday night, several members of the board questioned the SAO's decision not to prosecute despite the officer admitting to providing the prescription drugs.
"Being supported by an admission statement, I think that's grounds enough with the entire investigation for a prosecution, at least at minimum to show that this type of behavior is not tolerated," said board chair Rasheed Aquil.
While no one from the SAO's office was present at the meeting, an attorney working for the city tried to explain the possible reasoning for not prosecuting.
"The State Attorney's Office is going to have to prove beyond a reasonable doubt that the prescription medication that was supposedly given was actually a controlled substance," explained assistant city attorney Mike Schmidt. "There was no controlled substance to be tested, no controlled substance to be presented to a jury, so it was all based on what they say happened."
The explanation didn't satisfy all the members of the board.
"There was no physical evidence, but the officer did say that he had handed, on at least three occasions, the 10 milligrams of Adderall to the woman," board member Lincoln Tamayo said.
In addition, investigators say Magyarosi would turn off his body camera during his visits with the woman, use his police car to travel to her house while off duty, and sign out for meal breaks when visiting her on duty. In addition, while on suspension as part of the investigation, detectives went to his home to retrieve department property. He was not home at the time, but his 15-year-old daughter led the officers to an unsecured safe that contained his TPD-issued weapon amongst several other weapons.
After reviewing the evidence collected by investigators, Magyarosi declined to make a statement and resigned in June.
The final report of the investigation found enough evidence to sustain eight out of nine violations of TPD policy.
The board voted unanimously that the internal investigation was consistent with department policy and procedures.
"This is precisely the kind of case where we ought to shed a really clear light on it," said Tamayo. "And the way TPD responded to this is that we will not tolerate it, this is the kind of thing that needs to have much more light shed on it."