Citrus industry squeezed if Congress doesn't help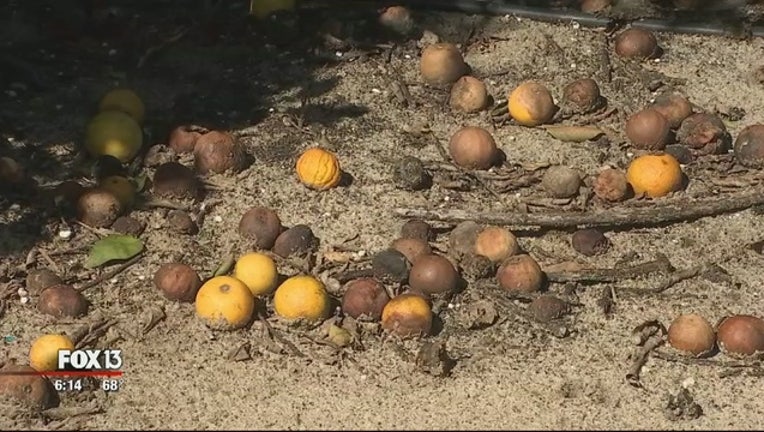 article
TALLAHASSEE (NSF) - No "plan B" is available if Congress does not add citrus funding to the latest disaster relief package, Florida Agriculture Commissioner Adam Putnam said Wednesday.
A day after the U.S. Department of Agriculture further reduced a forecast of the post-Hurricane Irma orange harvest, Putnam reiterated the need for federal assistance to the struggling industry, which could see damages from the storm top $1 billion.
"There is not a plan B. You're talking about significant losses to the state's signature crop," Putnam said after Wednesday's state Cabinet meeting. "While I know the Legislature is very interested in attempting to find some type of state-based help, that's just not an option on the same scale as what is being discussed in Washington."
Members of Florida's congressional delegation are working to attach funding for the citrus industry and other parts of the agriculture industry to a $44-billion disaster relief package. Putnam said he hopes the package, expected to be the last in a series responding to hurricanes Irma, Maria and Harvey, will take into account agriculture impacts in Florida, Texas and Puerto Rico.
"I'm cautiously optimistic, but we've been burned before," Putnam said.
U.S. Rep. Vern Buchanan, R-Fla., said Wednesday the Florida and Texas delegations have called the relief package "inadequate" in a letter to Trump administration. The citrus industry already was struggling with deadly citrus greening disease before Hurricane Irma devastated many groves in September.
"Citrus growers are facing their lowest production since Franklin Roosevelt was president," Buchanan, a co-chairman of the Florida delegation, said in a prepared statement. "Congress needs to act quickly and pass significant disaster relief for growers battered by Hurricane Irma and citrus greening."
Buchanan also is pushing to include a measure that would reduce the cost to growers for replacing trees damaged by Irma or citrus greening.
The state Department of Agriculture estimated in early October that Irma inflicted $2.5 billion in damages on Florida's agriculture industry, with citrus losses accounting $761 million of that number.
No update has been made to the estimate, but the citrus number is expected to be much higher as production further declines.
Irma uprooted trees and left many groves in standing water for up to three weeks, creating damage that is expected to impact the industry for years.
Members of the state House Select Committee on Hurricane Response and Preparedness have said they think the damages could stretch over the $1 billion mark.
The select committee has received proposals for the 2018 legislative session that would provide tax breaks to the industry, including tax exemptions for material used to repair or replace damaged fences and structures and for fuel used to transport crops during emergencies.
Since the September storm, the U.S. Department of Agriculture has reduced the orange forecast for the 2017-2018 growing season by 15 percent, to a more than seven-decade low of 46 million 90-pound boxes.
Growers, who for a decade have been fighting citrus greening disease, produced 68.75 million boxes of oranges during the 2016-2017 season.
"You're talking about an industry that 15 to 20 years ago was producing 200 million boxes," Putnam said. "We'll be lucky to produce over 40 million boxes this year."
And while the industry struggles to rebound from losses this year, it also faces the prospect that beverage companies will find alternative sources of citrus.
"You have the major brands, Coke, Pepsi, Florida's Natural, who are trying to meet the needs of consumers," Putnam said. "And in many cases, it's going to result in additional imports from Brazil, which also undermines Florida citrus and its market share."