Clearwater carjacker arrested after stealing FHP cruiser, troopers say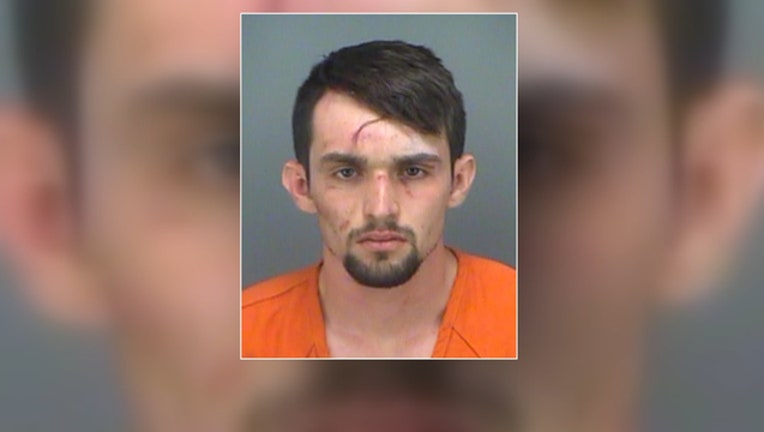 CLEARWATER, Fla. (FOX 13) - An accused carjacker is in custody after he allegedly used a stolen hammer to steal a car and later stole a Florida Highway Patrol trooper's cruiser to avoid an arrest, police said.
On Wednesday, Clearwater police said Shane Jensen swiped a hammer from the Home Depot located on Gulf to Bay Boulevard and U.S. Highway 19. They said he tried to carjack a truck but one person inside fought back. 
Jensen moved on to a pickup truck with a 17-year-old boy sitting inside, police said. The engine was still running. The teen, named Jake Brown, told FOX 13 he was startled when Jensen entered and sat in the driver's seat. He managed to dodge the hammer that the suspect was swinging. The teen exited just before Jensen drove away.
Jensen fled in the 2007 silver Dodge 3500 Mega Cab pickup truck, which was located by FHP on the Florida Turnpike near Vero Beach. 
Just after 4 p.m. Thursday, a trooper spotted a pedestrian that appeared to be "medically distressed," who turned out to be Jensen. He was spotted along the Turnpike in Okeechobee County. As the trooper walked away from his cruiser to retrieve water for Jensen, the suspect got up and entered the patrol car.
Troopers said Jensen fled in the now-stolen 2013 FHP Dodge Charger. Troopers said they did a traffic stop, but as they exited their vehicles to arrest him, Jensen put the stolen cruiser in reverse and attempted to run them over. 
Jensen eventually drove into Osceola County, and deputies there deployed stop sticks. They said Jensen attempted to avoid the stop sticks and drove into a grassy median, and stopped against a guardrail. 
Troopers said he ran into a nearby wooded area, and was taken into custody. He was taken to a Raulerson Hospital in Okeechobee County, but will be taken to jail when he is medically cleared. No troopers were injured during the ordeal.