Concert lineup for 2018 Florida Strawberry Festival announced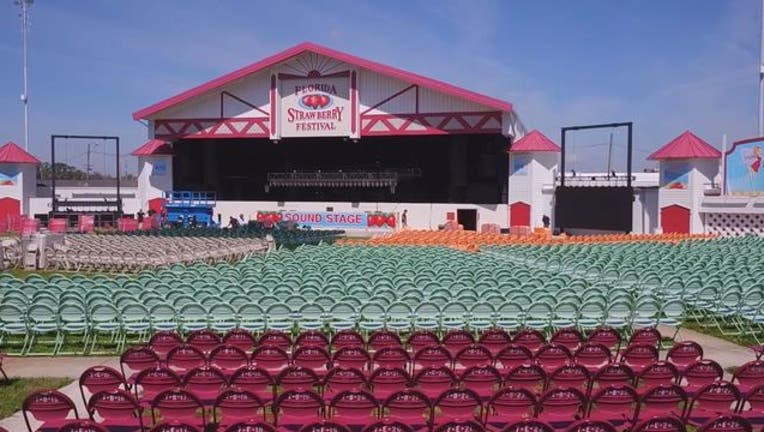 PLANT CITY (FOX 13) - The entertainment lineup for the 2018 Florida Strawberry Festival has been released.
More than 24 headline artists perform every year on the Wish Farms Soundstage and is one of the more popular attractions at the event.
Advanced tickets for admission and for the shows will go on sale on Thursday, December 7 at 8 a.m. Tickets can be purchased online at www.flstrawberryfestival.com, at the Amscot Main Ticket Office located at 2209 W. Oak Avenue in Plant City and over the phone at 813-754-1996.
The lineup is as follows:
Thursday, March 1
10:30 a.m. Jimmy Sturr & His Orchestra
3:30 p.m. Oak Ridge Boys
7:30 p.m. DNCE
Friday, March 2       
3:30 p.m. Jerry Lee Lewis
7:30 p.m. Justin Moore and Dylan Scott
Saturday, March 3
3:30 p.m. Cam
7:30 p.m. The Band Perry
Sunday, March 4        
3:30 p.m. Lee Greenwood
7:30 p.m. Reba McEntire
Monday, March 5      
3:30 p.m. Jimmy Fortune
7:30 p.m. Josh Turner
Tuesday, March 6
3:30 p.m. Gaither Vocal Band
7:30 p.m. Casting Crowns
Wednesday, March 7
3:30 p.m. Engelbert Humperdinck
7:30 p.m. Trace Adkins
Thursday, March 8
10:30 a.m. The Lettermen
3:30 p.m. Drifters, Platters and Cornell Gunter's Coasters
7:30 p.m. I Love the 90s Tour featuring Vanilla Ice, Tone Loc and Salt-N-Pepa
Friday, March 9       
3:30 p.m. Charley Pride
7:30 p.m. Earth, Wind & Fire
Saturday, March 10
3:30 p.m. Sawyer Brown
7:30 p.m. Kenny "Babyface" Edmonds and Anthony Hamilton
Sunday, March 11
3:30 p.m. Chase Bryant
7:30 p.m. Brad Paisley
The 83rd annual festival will be held from March 1 to 11 in Plant City.